Demand Justice for Hakamada:袴田巖さんの再審実現にあなたの力を!
Demand Justice for Hakamada:袴田巖さんの再審実現にあなたの力を!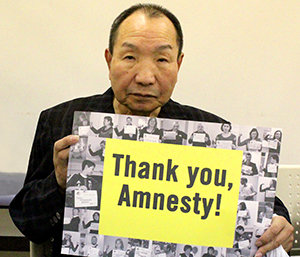 Iwao Hakamada
署名参加者数
Iwao Hakamada was sentenced to death in 1968 after an unfair trial, and spent 46 years not knowing if each day would be his last. On March 27, 2014 he finally walked free from prison in Japan, however, his fight to receive a fair trial continues. Please urge the prosecution to drop their appeal against the decision to grant Hakamada a retrial immediately.
えん罪の可能性が指摘されていながら、死刑判決を下され、以来46年を拘置所で過ごした袴田巖さん。長い闘いの末、今年3月にようやく再審決定を手にし、釈放されました。決定にあたって裁判所は、新たに提出された証拠は無罪を言い渡すのに足るものであるとし、証拠ねつ造の疑いを指摘、袴田さんを拘禁し続けるのは「耐え難いほど正義に反する」と述べました。しかし検察は、再審の決定に対し不服申し立てを行いました。申し立ての審理には時間がかかると見込まれ、袴田さんの真の自由は、また遠のいてしまったのです。

東京高等検察庁に対し、不服の申し立てを取り下げるよう、訴えてください!

On 27 March 2014, after studying new evidence that has emerged on Hakamada's case, the Shizuoka District Court ordered Hakamada's release, suspended the death sentence, and granted him a retrial. Upon grating a retrial, the court pointed out the likelihood that the evidence against Hakamada was fabricated, calling any further attempts to keep him in prison "unforgivably" unjust.

The prosecution immediately appealed to the Tokyo High Court against the decision to release him, but this was rejected by the court. On 31 March, the prosecution also appealed against the decision to grant a retrial, and the Tokyo High Court now has to decide whether a retrial can go ahead.

Hakamada is 78 years old and suffers from poor mental and physical health as a result of his many years on death row.

We need your voice to pressure the prosecution to drop their appeal against the decision to grant Hakamada a retrial.
About Hakamada case
Iwao Hakamada was sentenced to death in 1968 after being convicted in an unfair trial in 1966 of the murder of the boss of the factory where he worked, and the man's wife and two children.
Hakamada confessed to the murder of his boss, his boss's wife and their two children after 20 days of interrogation by police without a lawyer present. He retracted his confession and testified during his trial that police had beaten and threatened him to force him to sign a confession. Hakamada claimed that police had pulled his hair and slapped him during interrogations that lasted more than 12 hours every day.

Nonetheless he was found guilty and sentenced to death in 1968. His appeals were rejected by the Tokyo High Court in 1976 and the Supreme High Court in 1980. He went on to petition for a retrial: he was rejected by the Shizuoka District Court in 1994 and the Tokyo High Court in 2004. The Supreme Court rejected his petition for a third time on 24 March 2008; his lawyers submitted a second appeal the following month to the Shizuoka District Court.

One of the judges who convicted Hakamada, Kumamoto Norimichi, stated publicly in 2007 that he believed Hakamada was innocent. He said that during the trial he had argued with the other two judges that they should find Hakamada not guilty, but was outvoted.

Hakamada appears to have been sentenced to death principally on the basis of a confession extracted under duress. A key part of the evidence against him was a set of clothing, stained with the victims' blood, which was found abandoned in a tank of liquid miso at the factory. They were too small for Hakamada, but the prosecution claimed they had shrunk while in the tank. According to his lawyer, the knife Hakamada was supposed to have used was too small to have made the fatal wounds, and the door by which he was supposed to have entered and left the victims' house had been locked.
TAKE ACTION
Please urge the prosecution to drop their appeal against the decision to grant Hakamada a retrial, pointing out the decision by the district court to grant a retrial and the need for this to go ahead as soon as possible considering Hakamada's age and health concerns.
東京高等検察庁に対し、袴田巖さんの再審開始決定に対する即時抗告を取り下げるよう、求めてください。署名はアムネスティ日本でとりまとめ、東京高等検察庁に届けます。
Appeal target
(要請先)
Tokyo Superintendent Public Prosecutor, Kotaro ONO
(東京高等検察庁 大野恒太郎検事長)
Deadline
(締切日)
September 12, 2014
(2014年9月12日)
Your name and mail address entered will never be used for anything but the delivery of information of Amnesty International's activities. They will not be provided to any third parties unless Amnesty International abides by the Japanese regulations.