SYRIAN ARAB REPUBLIC: PARENTS AND SIX CHILDREN AT RISK
SYRIAN ARAB REPUBLIC:
PARENTS AND SIX CHILDREN AT RISK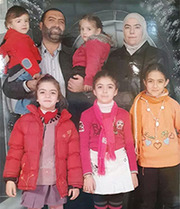 Update info:

20 Oct 2014
Country:

SYRIAN ARAB REPUBLIC

Subject:

Rania Alabbasi (f), Abdulrahman Yasin (m), Dima (f), ...
Gender: both

Period:

25 Nov 2014
Distribution date:

20 Oct 2014

UA No:

258/2014
A Syrian couple, Rania Alabbasi and her husband Abdulrahman Yasin, and their six children, now aged three to 15, have been subjected to enforced disappearance by the Syrian authorities. They were arrested in March 2013.
According to a relative who lives abroad, Military Intelligence officers came to Rania Alabbasi, a dentist and a former international competitive chess player, and her husband Abdulrahman Yasin's house on 9 March 2013 and arrested Abdulrahman Yasin. They are not believed to have given any reason for arresting him. They returned the following day and confiscated items such as money, jewellery, papers and the family's three cars.
They returned again on 11 March, this time to arrest Rania Alabbasi along with her six children. She has five daughters, Dima (aged 15), Entisar (aged 14), Najah (aged 11), Alaa (aged nine) and Layan (aged three) and one son, Ahmad (aged seven). Rania Alabbasi's secretary, who was in the house when the security forces arrived, was also arrested.
A former detainee claims to have been detained in the same Military Intelligence facility as Rania Alabbasi and her children about three weeks after she was arrested; the facility is known as Branch 291. Their whereabouts are unknown and Amnesty International is concerned for their wellbeing as torture and other ill-treatment are rife in Syria's detention centres. Their relatives have asked, but the Syrian authorities have provided no information about what has happened to the couple and their children, or why they were arrested.
Take action
Please write immediately in Arabic, English or your own language:
Urging the authorities to reveal what has happened to Rania Alabbasi, Abdulrahman Yasin and their six children, grant them immediate access to their family and lawyer, ensure that they are protected from torture and other ill-treatment, and give them any medical attention they may require;
Asking them to release the six children without delay and to release Abdulrahman Yasin and Rania Alabbasi unless they are charged promptly with an internationally recognizable offence and tried in accordance with international fair trial standards.
PLEASE SEND APPEALS BEFORE 25 NOVEMBER 2014 TO:

Bashar Ja'afari, Ambassador Extraordinary and Plenipotentiary
820 Second Avenue, 15th Floor, New York, NY 10017
Fax: +1 212 983 4439
E-mail: exesec.syria@gmail.com
Salutation: Your Excellency

Bashar al-Assad
Fax: +963 11 332 3410 (keep trying)
Salutation: Your Excellency
Also send copies to diplomatic representatives accredited to your country.