About Amnesty
Amnesty International is a global movement of more than 7 million people who take injustice personally. We are campaigning for a world where human rights are enjoyed by all.
We are funded by members and people like you. We are independent of any political ideology, economic interest or religion. No government is beyond scrutiny. No situation is beyond hope.
What is the Amnesty International Japan?
Amnesty international Japan (AI Japan) was founded in 1970 as one of the sections of the largest human rights non-governmental organization in the world. AI Japan endeavors to inform people throughout Japan human rights abuses in the various parts of the world and also to report people both in Japan and overseas human rights conditions in Japan.
Our activity
AI Japan provides people in Japan with press releases, appeal and others on human rights abuses issued by the International Section in London. At the same time we undertake activities to spread in Japan campaigns and actions that Amnesty International carries out in the world.
Unfortunately Japan has yet to prepare the various laws and standards in accordance with the international human rights standards. We encourage the Japanese government to introduce the rules and systems to comply with and enforce the international rules of protecting human rights.
Amnesty International maintains a policy defining the boundaries of the work that AI members and staff can carry out in relation to human rights abuses in their own country (known as the ''Work on own country'' rule). This policy is designed to ensure that we keep ourselves politically neutral in activities that AI sections take and that all people in the movement are safe and secure.
AI Japan therefore may not engage in all issues taking place in Japan but always endeavors to grip the issues of human right abuses in Japan and to share them with the rest of the Amnesty International members to help them take actions on those issues.
Our vision
Amnesty International Japan envisions a world in which every person enjoys all of the human rights enshrined in the Universal Declaration of Human Rights, and lives like a human being.
Our mission
We undertake research, educational activities, campaigns and lobbying with the aim of preventing and ending abuses of human rights.
In an effort to ensure that Japanese residents better understand human rights issues, and that the Japanese government observes international human rights standards, Amnesty International Japan, as a part of the international movement, works in three main areas:
Communicating
To spread an understanding among Japanese residents that their human rights are linked with the human rights of others, even people on the other side of the world;


Extending circles
To help develop and support circles of people throughout the whole country to take concrete actions to end human rights abuses;


Linking people
To ensure that people taking action can readily link up with others, both in Japan and overseas, to encourage and help each other to grow as effective human rights activists.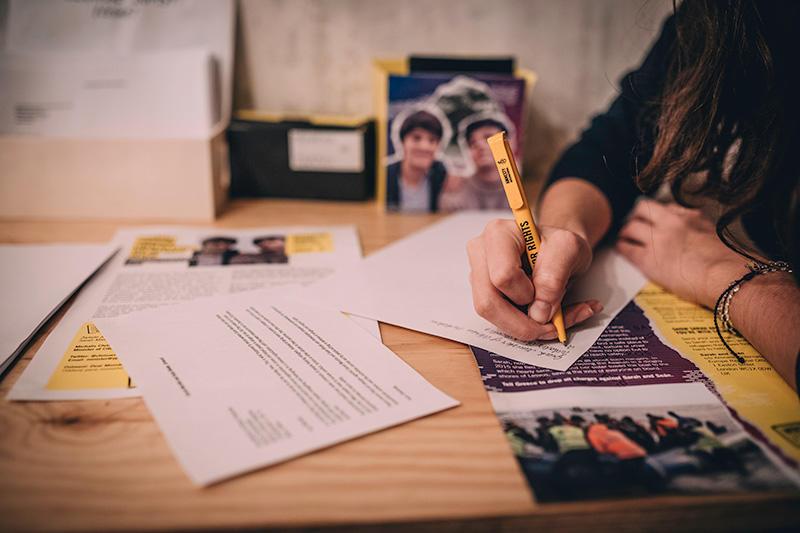 Group is a group of volunteer members who are involved in Amnesty activities across the country. Activities include the exchange of information, letter writing, planning and organizing events, regular meetings, and much more.Here are some groups that you can work with in English.
We need to keep working on challenges for a long period of time to realize a world in which all human rights are valued, the weak are protected and every person can humanly live.A membership with monthly payment of 1000 yen is available.
If you concur our visions and activities, please join us in Monthly Donor Program "Human Rights Supporter" to support us financially and regularly.