6 Jun 2012

[International Secretariat]
Region: CANADA
Topic: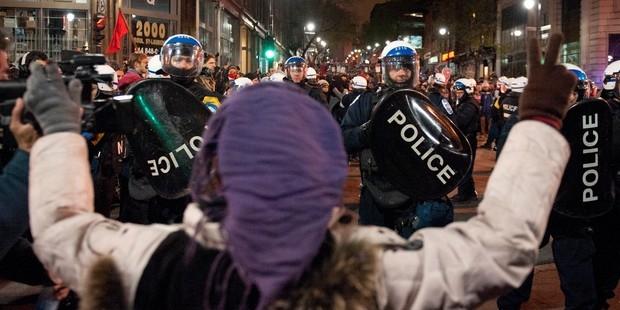 A repressive law passed amid massive protests in Quebec poses a threat to basic freedoms. © ROGERIO BARBOSA/AFP/GettyImages
Unprecedented police powers granted by a new law in the Canadian province of Quebec violate freedoms of speech, assembly and movement in breach of Canada's international obligations, Amnesty International said.

What began as protests led by student groups in Quebec over a proposed hike in tuition fees 14 weeks ago have expanded in size and focus in recent weeks, with more than 2,000 arrests being made. On 23 May alone, police arrested close to 700 protesters in several cities.

Daily, largely peaceful demonstrations have been attracting a wide range of civil society groups in several cities - some in Montreal, Quebec's largest city, have drawn up to 200,000 protesters.

The emergency legislation - passed on 18 May and titled Bill 78, "An Act to enable students to receive instruction from the postsecondary institutions they attend" - imposes a series of restrictions on public demonstrations, including a requirement for protest organizers to apply in advance before convening any group of more than 50 people.

"Bill 78 is an affront to basic freedoms that goes far beyond what is permissible under provincial, national or international human rights laws," said Javier Zuniga, Special Advisor at Amnesty International.

"It is unreasonable and unacceptable to require citizens to apply to the authorities in advance any time they wish to exercise a basic human right. Quebec's National Assembly should rescind this restrictive law immediately."
The overbroad provisions of Bill 78 are contrary to Canada's international obligations with regard to a number of human rights, including the rights to freedom of assembly and association, the right to freedom of expression, the right to the presumption of innocence, and - in the case of restrictions on university employee associations - many of the rights related to trade union activity.

On Wednesday, a group of some 60 law professors from Quebec published an analysis of the new legislation, decrying what they called its "reprehensible distortion of the spirit of [human rights] charters". Other Canadian human rights organizations and the Quebec bar association raised similar grave concerns.

Bill 78 requires organizers of gatherings of more than 50 people to submit a detailed application in writing to the authorities at least eight hours in advance, effectively prohibiting spontaneous protests and giving police unprecedented powers to re-route or even reject demonstrations.

It could also block freedom of assembly for student groups and others by imposing steep fines in cases where educational services are disrupted by a protest or other gathering.
The new measure also allows police to hold presumed organizers responsible if anyone taking part in their gathering breaks the law, overriding the presumption of innocence until proven guilty.
Amnesty International believes that Bill 78 gives the authorities the power to take arbitrary measures against any individual as they see fit while providing no legal recourse against such actions.

"What is unacceptable is that individuals can no longer predict whether their mere participation in a public gathering - a peaceful demonstration, a festival, a sporting event, or a religious gathering - will be criminalized," said Beatrice Vaugrante, Director General of Amnesty International's Francophone Canada section.

"While we unequivocally condemn acts of vandalism and violence and recognize that law enforcement officials have a duty to protect citizens and maintain public order, giving them discretionary powers to round up large numbers of people on a presumption of guilt is dangerous and contravenes Canada's international human rights obligations."

In recent weeks, Amnesty International's Francophone Canada section has raised concerns about the policing of the ongoing protests in Montreal, including over a ban on the use of masks in peaceful protests and reports of police using excessive force and carrying out arbitrary arrests.

Amnesty International renews its call for an independent inquiry into the actions of the security forces and acts of violence and vandalism by some individuals during the recent protests in Quebec.
25 May 2012

AMNESTY INTERNATIONAL PRESS RELEASE
Related Newses