19 Nov 2012

[International Secretariat]
Region: FEDERATIVE REPUBLIC OF BRAZIL
Topic: Fight Against Terrorism and Human Rights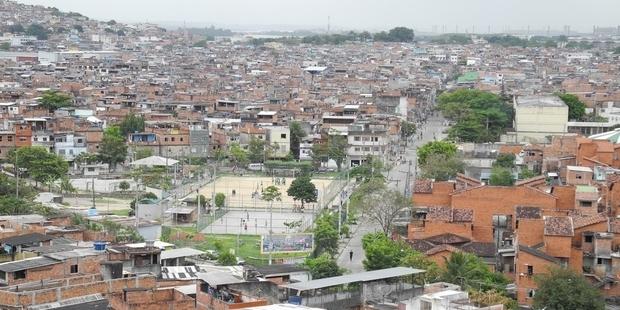 The "We are from Maré and we have rights" campaign aims to avoid human rights violations amid a major police operation in Rio de Janeiro slums. (C)AI
Tens of thousands of residents in one of Rio de Janeiro's biggest favelas are being targeted by Amnesty International and NGO partners to ensure they know their human rights ahead of a police operation to retake the area from armed criminal gangs.
Beginning on 6 November, Amnesty International and local NGOs Redes de Desenvolvimento da Mare and Observatorio de Favelas will distribute some 50,000 information packs to people living in slums in the Mare area of the Brazilian city.
The campaign - "We are from Mare and we have rights" - is aimed at avoiding the kinds of human rights violations that have taken place during similar recent operations when Police Pacification Units (Unidade de Policia Pacificadora, UPP) moved into Rio's favelas.
"We want to break with the notion that anything goes because there's a 'war' against organized crime - this includes putting an end to violating the rights of residents of the communities where the UPPs move in," said Atila Roque, Amnesty International's Brazil Director.
"Police operations to pacify high-crime areas can only be justified if they can guarantee the rights of all citizens, starting with the slum-dwellers.
The information packs that are being distributed by the NGOs include information on the slum-dwellers' rights and duties if they are approached by police officers - in the street or at home.
A sign included in the pack lists police actions deemed unacceptable - including entering homes without a warrant, discriminating against individuals on any basis, or putting the lives of residents at risk by using firearms in densely populated areas.
The organizations recognize that Rio de Janeiro's police have a duty to carry out their jobs, but urge them to treat Mare residents with respect and civility.
The campaign is part ongoing efforts by civil society groups to work together with Rio de Janeiro's slum-dwellers to improve awareness about human rights.
"The purpose of the campaign is to empower people in the favelas so they can play their part of in ensuring their own safety and that of their neighbours," said Eliana Silva, Director of Redes de Desenvolvimento da Mare.
The federal and state governments have been working together to "pacify" high-crime areas in Rio de Janeiro's favelas, with the aim of installing 40 UPPs in high-crime areas by 2014. Besides bringing law and order to areas previously under the control of criminal gangs and militias - in some cases for upwards of two decades - the programme aims to bring much-needed social services to some of the city's most impoverished areas.
The Mare area - made up of 16 separate favelas - is home to 130,000 people, making it more populous than 80 per cent of Brazilian cities.
"Our basic assumption is that the city should be for everyone. We can't tolerate a police officer treating residents differently on the basis of their colour, sexual preference, physical appearance or social class - whether it's in Mare or in better-off areas of the city," said Jailson Silva, Coordinator-General of Observatorio de Favelas.
"We want people to take ownership of the city and be aware of their rights as a first step towards everyone being able to circulate freely with security, beginning in their own neighbourhoods."
5 November 2012
AMNESTY INTERNATIONAL PRESS RELEASE
Related Actions
Related Newses