16 Jan 2013

[International Secretariat]
Region: KINGDOM OF SAUDI ARABIA
Topic: Abolition of the Death Penalty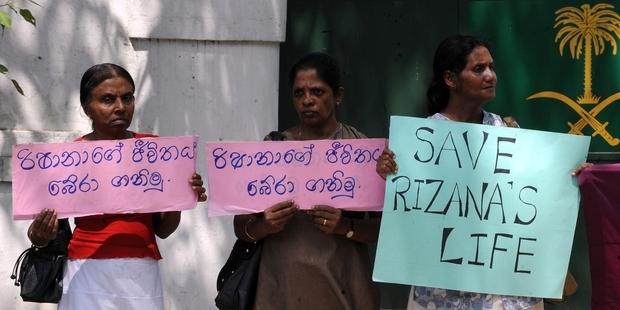 The Sri Lankan government had urged Saudi Arabia's King to show clemency in Rizana Nafeek's case.(C) Ishara S.KODIKARA/AFP/Getty Images
Today's beheading of a Sri Lankan domestic worker in Saudi Arabia for a crime she allegedly committed while still a child shows once more that the Gulf kingdom is woefully out of step with international standards on the death penalty, Amnesty International said.
Rizana Nafeek was executed in Dawadmi, a town west of the Saudi Arabian capital Riyadh, on Wednesday morning. Her death sentence had been handed down by a Dawadmi court on 16 June 2007, based on allegations that she murdered an infant in her care when she herself was 17 years old.
Earlier this week Amnesty International and the Sri Lankan government had urged Saudi Arabia's King Abdullah ? who ratified her death sentence ? to show clemency in her case, given her young age at the time of the alleged crime as well as concerns she had received an unfair trial.
"Despite a chorus of pleas for Saudi Arabian authorities to step in and reconsider Rizana Nafeek's death sentence, they went ahead and executed her anyway, proving once more how woefully out of step they are with their international obligations regarding the use of the death penalty," said Philip Luther, Director of Amnesty International's Middle East and North Africa Programme.
As a state party to the Convention on the Rights of the Child (CRC), Saudi Arabia is prohibited from imposing the death penalty on persons who were under 18 years old at the time of the alleged offence for which they were convicted. If there is a doubt as to the correct age, courts have to treat an accused as a juvenile offender unless the prosecution can prove he or she was an adult.
Before Nafeek's execution, Sri Lankan President Mahinda Rajapaksa had appealed to the Saudi Arabian King to exercise clemency, and Sri Lanka's Parliament reportedly held a minute of silence on Wednesday after receiving news that her death sentence had been carried out.
A statement on the Sri Lanka's Ministry of External Affairs website said that President Rajapaksa and the Government of Sri Lanka "deplore" her beheading.
Unfair trial concerns
The passport Nafeek used to enter Saudi Arabia in May 2005 states her year of birth as 1982, giving the appearance she was 23 years old when she entered the country to take up her job as a domestic worker. But her birth certificate states she was born six years later, making her 17 years old at the time of the infant's death.
According to information gathered by Amnesty International, she was not allowed to present her birth certificate or other evidence of her age to the first instance court during her trial in 2007. While she may have been able to do so in later legal proceedings, it appears not to have swayed the decision of the judges, who in Saudi Arabia have discretion to decide the age of majority for children.
It also appears that the man who translated her statement to the court may not have been able adequately to translate between Tamil and Arabic. He has since left Saudi Arabia.
Nafeek had no access to lawyers either during her pre-trial interrogation or at her trial in 2007. Although she initially "confessed" to the baby's murder during her interrogation, she later retracted and denied it was true, saying she had been forced to make the "confession" under duress following a physical assault. She had argued that the baby died in a choking accident while drinking from a bottle.
Widespread use of the death penalty
Saudi Arabia applies the death penalty to a wide range of offences, and many of those executed in recent years have been foreign nationals ? mostly migrant workers from poor and developing countries.
Court proceedings in Saudi Arabian capital cases typically fall far short of international fair trial standards. Defendants are rarely allowed formal representation by a lawyer and in many cases are kept in the dark about the progress of legal proceedings against them.
In 2012 Amnesty International recorded the execution of at least 79 people, of whom 27 were foreign nationals. At least two death sentences have already been carried out this year, both foreign nationals.
Amnesty International opposes the death penalty in all circumstances.
9 January 2013
AMNESTY INTERNATIONAL PRESS RELEASE
Related Actions
Related Newses