17 Jan 2013

[International Secretariat]
Region: KINGDOM OF SAUDI ARABIA
Topic: Individual at risk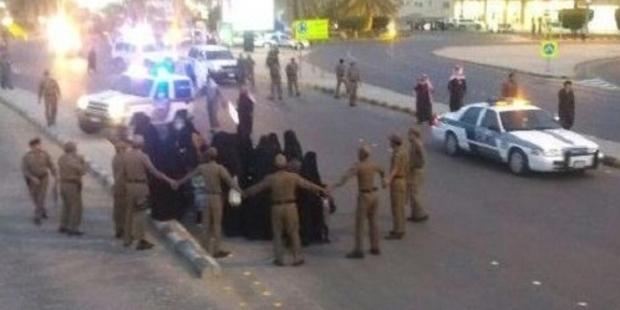 Security forces dispersed a protest in the central Saudi Arabian city of Buraida and detained some 18 women.© Private
A group of women protesters detained by the Saudi Arabian authorities must be released unless they are charged with an internationally recognizable crime, Amnesty International said today.
At least 11 women are still believed to be in detention in the central city of Buraida as well as in the capital Riyadh after being held at a protest in Buraida on 5 January.

In all, security forces arrested some 18 women and 10 children who had gathered outside Buraida's Board of Grievances building to protest at the continued detention of relatives in connection with the Saudi Arabian authorities' counter-terrorism efforts.

"According to reports and photos from the protest, these women and children merely gathered peacefully and held placards bearing their detained relatives' names and the length of their detention," said Philip Luther, Middle East and North Africa Programme Director at Amnesty International.

"There is no way the Saudi Arabian authorities can justify detaining people if they have simply peacefully exercised their rights to freedom of expression and assembly."

Around 30 minutes after the protest began on 5 January, security forces surrounded the group of women and children and forced them onto buses which brought them to prison.

They were questioned by officials from the Bureau of Investigation and Prosecution, who told them that they had "infringed the system".

Around 2am the next day, seven of the women who had not previously taken part in protests were released ? but only after they signed and added their thumbprints to pledges not to protest again. The children were also released.

The remaining women appear to be still in custody.

Three of the women are believed to be at Buraida's General Prison while eight more ? all of them under the age of 30 ? were transferred to the Social Welfare Home in the capital Riyadh, some 350km away. One of the women at the care home still has her daughter with her.

On Sunday security forces dispersed another protest, this time outside Buraida's General Prison, calling for the release of the three women held inside.

The next day several family members went to the Social Welfare Home in the capital to ask about their female relatives there, but they were forced to leave the area after the security forces intervened.

The Home, which is run by the Ministry of Social Affairs, serves as a shelter or care home that cares for children, young women and the elderly.

According to its website, the care home houses, amongst others, young Saudi Arabian women who have been detained for "committing forbidden acts" and those who are being held pending interrogation or trial. Young women under the age of 30 are housed there by order of a judge.

The website also explains that investigations and judicial proceedings take place within the care home itself as the social and psychological conditions are deemed to be appropriate for young women.
8 January 2013
Related Actions
Related Newses