8 May 2013

[International Secretariat]
Region: ISLAMIC REPUBLIC OF AFGHANISTAN
Topic: Women's Rights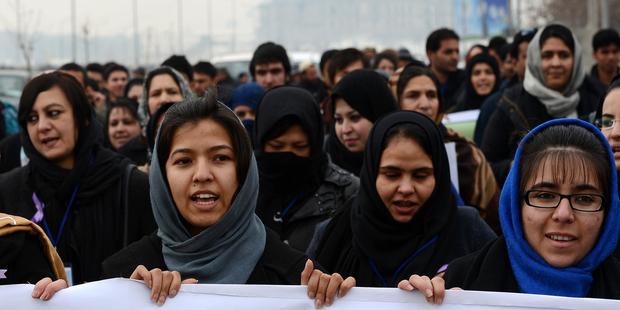 Authorities are still failing to tackle the shocking levels of gender-based violence in Afghanistan(C) SHAH MARAI/AFP/Getty Images
The public killing of a woman in Afghanistan is further proof that the authorities are still failing to tackle the shocking levels of gender-based violence in the country, Amnesty International said today.
The woman, who has two children, was shot dead on Monday 22 April by her father in front of a crowd of about 300 people in the village of Kookchaheel, in the Aabkamari district of Badghis province in north-western Afghanistan.
The woman, named Halima and believed to be between 18 and 20 years old, was accused of running away with a male cousin while her husband was in Iran. Her cousin returned Halima to her relatives 10 days after running away with her. His whereabouts are unknown.
"Violence against women continues to be endemic in Afghanistan and those responsible very rarely face justice," said Horia Mosadiq, Afghanistan researcher at Amnesty International.
The killing came after three of the village's religious leaders, allegedly linked to the Taliban, issued a fatwa (religious edict) that Halima should be killed publicly, after her father sought their advice about his daughter's elopement.
"Not only do women face violence at the hands of family members for reasons of preserving so-called 'honour', but frequently women face human rights abuses resulting from verdicts issued by traditional, informal justice systems," said Mosadiq. "These systems must be reformed and the police must prevent such verdicts being carried out."
Halima's father and the three religious council members who issued the fatwa have reportedly gone into hiding. The local police say they are investigating the case, but no one has yet has been arrested in connection with the killing.
"The authorities across Afghanistan must ensure that perpetrators of violence against women are brought to justice. The deeply shocking practice of women being subjected to violent" punishments", including killing, publicly or privately, must end," said Horia Mosadiq.
The Afghanistan Independent Human Rights Commission (AIHRC) documented more than 4,000 cases of violence against women from 21 March to 21 October 2012---a rise of 28% compared with the same period in the previous year.
The AIHRC has also criticised the Afghan police in Baghdis for recruiting suspected perpetrators of such violence, including a Taliban commander and his 20 men implicated in the stoning to death of 45-year-old widow Bibi Sanuber for alleged adultery in 2010. "Such blatant disregard of women's rights makes a mockery of justice," said Mosadiq.
In August 2009, Afghanistan passed the Elimination of Violence against Women Law, which criminalises forced marriage, rape, beatings and other acts of violence against women.
"Afghanistan's law for the elimination of violence against women is a very positive step, but it will not be useful unless it is properly enforced---something we haven't seen so far," said Horia Mosadiq.
30 April 2013
AMNESTY INTERNATIONAL PRESS RELEASE