9 May 2013

[International Secretariat]
Region: UNION OF MYANMAR
Topic: Indigenous people Minority group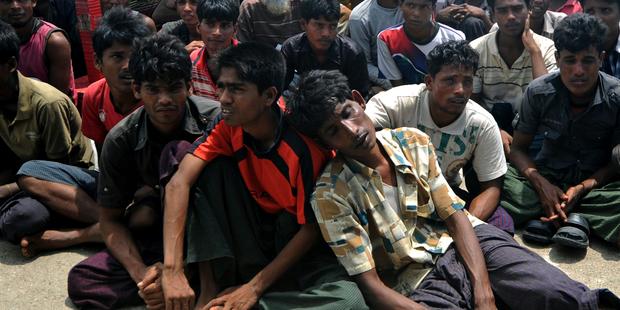 Thousands of Rohingya Muslims have been displaced by the violence in Rakhine state(C) AFP/Getty Images
Recommendations in a government-backed report investigating last year's devastating violence in Myanmar fail to effectively tackle discrimination against Rohingya Muslims and could trigger more human rights abuses, Amnesty International said.
The government-appointed Rakhine Commission this week issued a briefing on its investigation into violence between Buddhist and Muslim communities in Rakhine state, western Myanmar, which first erupted in June 2012. The clashes have resulted in a considerable loss of life and left thousands displaced.
The Commission, which did not include any Rohingya on its panel, called on the government to "double" the presence of security forces in Rakhine state, including the Border Security Force (NaSaKa)
"There are some positive steps in this report but also several flaws. Deploying more security forces without first suspending -- pending further investigation -- those who may have been involved in human rights violations during last year's violence could fuel further abuses," said Isabelle Arradon, Amnesty International's Asia Deputy Director.
"Comprehensive reform of the security forces, including the establishment of robust accountability mechanisms, adequate vetting systems and training on relevant international standards, is also essential."
Since June 2012, the NaSaKa, police and army have arbitrarily detained hundreds of men and boys, mostly from Muslim-dominated areas, and subjected many of them to torture and other ill-treatment.
There are also consistent reports that security forces have failed to protect members of the Muslim community, particularly the Rohingya minority, from attacks. In some cases, security forces have used unnecessary and excessive force that has led to deaths and injuries.
The Commission did recommend the establishment of a Truth-Finding Committee, and stressed the need to ensure that those who break the law are "prosecuted".
"A Truth-Finding Committee is a positive step, as long as it is part of an independent investigation to determine responsibility for the violence and its findings are released to the public," said Isabelle Arradon.
"But such a commission should not bar or replace criminal justice, or reparation for crimes under international law."
The Commission said citizenship claims by Rohingya, who are referred to in the report as "Bengali", should be addressed in a "transparent and accountable manner."
However, it failed to call for a review of the 1982 Citizenship Law, which has rendered Rohingya Muslims effectively stateless.
"Under international human rights standards no one must be left stateless. Anything short of granting the Rohingya equal access to citizenship is in itself a form of discrimination which should be urgently addressed," said Isabelle Arradon
The Commission also called for several measures to address the ongoing humanitarian crisis in Rakhine state, recognizing that the humanitarian response "still has several gaps".
According to UN estimates, some 140,000 people remain displaced across Rakhine state with limited access to bare necessities like food and medical care.
Conditions are expected to worsen during the monsoon season, which starts in May, as heavy rains threaten to flood certain internally displaced person (IDP) camps.
"t is deeply concerning that humanitarian organizations still do not have unfettered access to all populations in need of aid, including those living in remote areas or unregistered camps," said Arradon.
"Immediate arrangements must be made for the displaced living in flood-prone areas to avoid a humanitarian crisis with the approaching rainy season."
The Commission recommended that the de facto segregation of the Rakhine and Rohingya populations -- enforced following the violence -- should continue until tensions between the communities subside.
"While there is obviously a need to restore calm, the authorities must also consult internally displaced persons and develop a plan to facilitate their voluntary return home. Segregation and IDP camps cannot be a long-term solution," said Isabelle Arradon.
The Commission, which was established in August 2012, comprises 27 stakeholders including Muslims, but does not feature a representative from the Rohingya community.
30 April 2013
Amnesty International Newsrelease
Related Actions
Related Newses