9 Jun 2013

[International Secretariat]
Region:
Topic: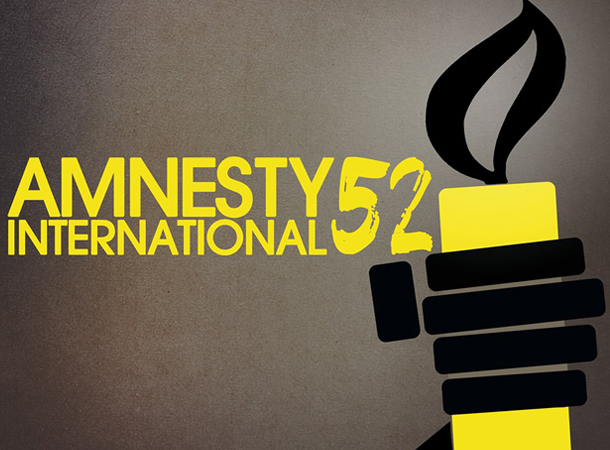 Today U2 and Hard Rock International are supporting and celebrating the birthday of Amnesty International with a limited edition Hard Rock International U2 Signature Series T Shirt.
The shirt draws attention to and raises money for the tremendous work of one of the most effective and respected human rights organizations on the planet.
In the new video by the late Run Wrake, designer and long-time friend of the band, Bono salutes the human rights organization, "It's Amnesty International's Birthday! Amnesty was formed because two Portuguese students were imprisoned for seven years for toasting to freedom. Happy Birthday to Amnesty International!"
The limited edition U2 Signature Series T-shirt ($26) is available in selected Hard Rock Cafés, Hard Rock Hotels and Casinos as well as online at HardRock.com, with 15% of the retail price going to Amnesty International in support of the organization's human rights campaigns worldwide.
"The support of world renowned artists like U2 has had a huge impact on awareness of our human rights work during our 52 year history and we are very grateful for the continued strength of U2's support," said Thomas Schultz-Jagow, Senior Director of Campaigns and Communications at Amnesty International. "Anyone buying one of these unique t-shirts can enjoy knowing that they are helping to stand up against human rights abuses all over the world."
The shirt is printed on a navy blue EDUN LIVE T-shirt manufactured in Africa from 100% African cotton and is available in men's sizes. It features an image of an electric guitar with angel wings, emblazoned with the words "Justice," "Humanity" and "Equality." A barbed wire is seen wrapped around the neck of the guitar. The back of the T-Shirt bears the signatures of each member of U2 including singer Bono, guitarist The Edge, bassist Adam Clayton and drummer Larry Mullen, Jr.
Events are being held at Hard Rock Cafes across the world to celebrate Amnesty International's birthday on May 28th. A DVD and companion CD titled "Get Up! Stand Up!" presenting highlights of Amnesty International's historic "Human Rights Concerts"-- (which includes performances by U2, Bruce Springsteen, Sting, Peter Gabriel and Radiohead among 30 artists)-- is also being released to mark the organization's 52nd birthday.
(Amnesty will be releasing a comprehensive five-disc DVD box-set of the "Human Rights Concerts" this October.)
Hard Rock's Signature Series Lineup
Hard Rock developed the concept of partnering with world-renowned musicians and bands to create and donate imaginative designs more than 20 years ago. These unique designs are reproduced onto T-shirts and sold at Hard Rock properties worldwide, with a portion of the retail price benefitting the artist's preferred charity. U2 joins a legendary roster of rock icons--from The Who, Bruce Springsteen and Eric Clapton, to Jon Bon Jovi, Shakira, Ringo Starr and John Lennon--who have become part of Hard Rock's Signature Series program, which has helped to raise millions of dollars for charitable causes worldwide.
28 May 2013
AMNESTY INTERNATIONAL PRESS RELEASE