1 Aug 2013

[International Secretariat]
Region: RUSSIAN FEDERATION
Topic: Individual at risk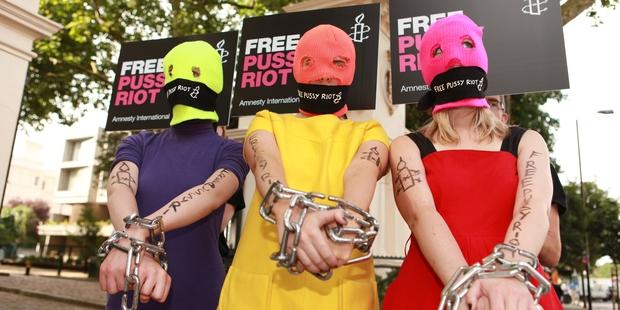 More than 100 musicians from around the world have urged the Russian authorities to release the jailed members of Pussy Riot. © Amnesty International/Imran Uppal
A Russian appeal court's decision to keep a second Pussy Riot punk band member behind bars for singing a protest song is further confirmation of the country's dangerous slide towards greater suppression of free speech, Amnesty International said.
Today the Supreme Court of the Republic of Mordovia turned down 23-year-old Nadezhda Tolokonnikova's parole appeal because she refuses to admit guilt for "hooliganism" and has twice been reprimanded at the penal colony where she has been imprisoned since last year.

Tolokonnikova maintains her innocence and said she will continue to appeal her sentence all the way to Russia's Supreme Court.

On 24 July the Perm Regional Court upheld a previous decision to refuse to grant parole to Tolokonnikova's bandmate, 25-year-old Maria Alekhina.

Tolokonnikova, together with Alekhina and Ekaterina Samutsevich, three members of the all-female group Pussy Riot, were charged with "hooliganism on grounds of religious hatred" after they sang a protest song in Moscow's main Orthodox cathedral in February 2012. All three were subsequently sentenced to two years' imprisonment in a penal colony but Samutsevich was later given a suspended sentence on appeal.

"The punk singers were arrested solely for the peaceful expression of their beliefs and Amnesty International considers them to be prisoners of conscience. The Russian authorities must release Maria Alekhina and Nadezhda Tolokonnikova immediately and unconditionally and the sentences against them and Ekaterina Samutsevich should be overturned," said Natalia Prilutskaya.

"The Russian authorities should realize that times have changed – it's impossible to gag free speech and emasculate civil society. Russia is a major player on the world scene and to keep its standing the authorities must adhere to the country's obligations to defend and promote human rights."

On the eve of this week's appeal hearings, more than 100 internationally renowned musicians and some 35,000 activists around the globe called for the immediate release of the Pussy Riot band members.
News
July 26, 2013
Related Actions
Related Newses