9 Oct 2013

[International Secretariat]
Region:
Topic: Arms Trade Treaty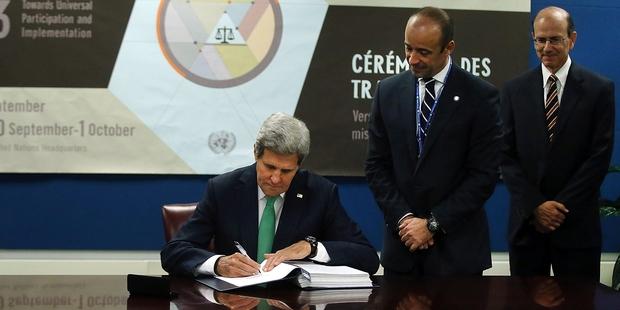 US Secretary of State John Kerry signs the Arms Trade Treaty (C) Spencer Platt/Getty Images
Amnesty International's Secretary General Salil Shetty called on governments to act on their promises to end the flow of conventional arms that fuel atrocities and abuse, after the number of countries that signed the historic Arms Trade Treaty (ATT) passed the 100 mark.
At the United Nations in New York on Wednesday, Shetty told a meeting of government ministers and senior officials--including UN Secretary General Ban Ki-moon--how Amnesty International began the long journey for the treaty in 1993. He said the organization would "continue to challenge as many governments as possible to deliver on their promises to implement the lifesaving Arms Trade Treaty rapidly and rigorously."
"The political momentum on the treaty is encouraging but we don't want to be sitting here in another 20 years wondering how we can stop arms fuelling the crises in different countries around the world," Shetty said.
A further 20 countries signed the treaty on Wednesday--including the USA which is the world's largest arms dealer. In less than four months, 108 countries have signed the treaty and already seven have ratified it. It will enter into force shortly after 50 states have ratified.
Shetty described the USA signing as "a milestone towards ending the flow of conventional arms that fuel atrocities and abuse."
The USA supplies arms to more than 170 countries and has a mixed record of suspending arms supplies on human rights grounds.
The other countries to sign yesterday included Bosnia and Herzegovina, Chad, Colombia, Democratic Republic of Congo, Ghana, Mongolia, Peru, Philippines, Sierra Leone and South Africa.
In addition, Costa Rica and Trinidad and Tobago ratified the treaty on Wednesday.
At least 500,000 people die every year on average and millions more individuals are displaced and abused as the result of armed violence and conflict.
The Arms Trade Treaty will prohibit states from transferring conventional weapons to countries when they know those weapons will be used to commit or facilitate genocide, crimes against humanity or war crimes.
Under the terms of the treaty agreed in April, governments are required to conduct risk assessments for arms exports and refuse authorization if there is an "overriding risk" that the arms would be used for serious violations of international human rights or humanitarian law.
For two decades Amnesty International has campaigned to achieve robust, legally binding global rules on international arms transfers to stem the flow of conventional arms and munitions that fuel atrocities and abuse.
Millions of people around the world have called on governments to agree a treaty with the real potential to protect lives.
Salil Shetty spoke of the need to prioritize women's participation in all efforts to combat and eradicate the illicit trade of weapons.
He called on governments to take all necessary measures to "ensure civilians, including women and girls, who have been victims of gun-related violence, including sexual and gender based violence, have access to justice, truth and reparation."
26 September 2013
Amnesty International News Release