17 Oct 2013

[International Secretariat]
Region: UNITED STATES OF AMERICA
Topic: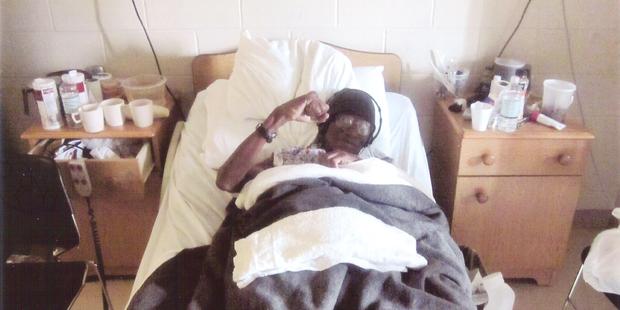 Herman Wallace was held in an isolation unit for over 41 years. (C) Private
Today is a sad day for human rights and justice.
Herman Wallace, the 71-year-old man who spent over 41 years in solitary confinement in prison in Louisiana, finally passed away after losing his battle with liver cancer.
The only solace was that he died a free man. Last week a federal judge overturned his conviction.
Even then, consistent with their decades-long obsession with keeping Herman Wallace behind bars, the state of Louisiana appealed against the court order for his immediate release.
Thankfully, within hours, the same federal judge denied the appeal and threatened to hold the state in contempt of court. Only then did the state finally release Herman Wallace.
He was so weak that he left the prison by ambulance, to be taken directly to hospital.
From the unsafe conviction at his deeply flawed trial in 1974, through 41 years of confinement in cruel, inhuman and degrading conditions, to a belated terminal diagnosis and his death in prison, Herman Wallace's treatment at the hands of the state was dogged by a fundamental disregard for his human rights.
Amnesty International has for years been campaigning for Herman Wallace to be released from isolation. And more recently, after he was diagnosed with liver cancer, to be released from prison to spend his last days with his loved ones.
Herman Wallace, an African-American, was convicted in 1974 of the murder of a prison guard, Brent Miller, by an all-white male jury.
No DNA evidence linked him to the crime, not even the knife or the bloody prints found at the scene. The testimony of the main witness was later revealed to have been bought by the state in return for favours, including a pardon.
Based on the strength of prosecutorial misconduct and on constitutional violations, a state judicial Commissioner recommended, in 2006, reversing Herman Wallace's conviction. But the Louisiana Supreme Court denied his appeal without comment.
In 2009, Herman Wallace sought review of his case by the federal courts. Tuesday's ruling overturned his conviction on the basis of the systematic exclusion of women from the grand jury that indicted him for the murder in 1973. This is one of many irregularities that have been raised in the case.
Immediately following the murder, Herman Wallace was placed in solitary confinement in a cell measuring two by three metres and confined in this tiny space for 23 hours a day.
He was denied access to meaningful social interaction, work opportunities, education and rehabilitation programmes. During his 41 years in solitary confinement he was only allowed out of his cell for seven hours a week, which he would spend showering or in solitary recreation. Under international law, these conditions amount to cruel, inhuman and degrading treatment.
Amnesty International knows of only one other person in the US who has been held for longer under such harsh conditions.
To compound the injustice of being held in cruel conditions for decades, Herman Wallace was denied meaningful review of the reasons behind the decision to keep him in solitary confinement.
Since 1972, the prison review board considered and reaffirmed the original decision to keep Herman Wallace in lockdown on more than 160 occasions.
The decision by prison authorities to keep Herman Wallace in isolation could not have been based on his behaviour, as prison records demonstrate that he had not committed any serious disciplinary infractions for decades, and his mental health records indicate that he posed no threat to himself or others.
Herman Wallace consistently proclaimed his innocence. He believed he was falsely implicated for his political activism in prison as a member of the Black Panther Party (BPP). Together with Albert Woodfox, also convicted of the same crime, they set up the first prison chapter of the BPP within Louisiana State Prison in the 70's. They strove to unite all prisoners to fight against the rampant sexual abuse and violence that marked out the prison as one of the bloodiest of its time.
There was never any justifiable reason to subject Herman Wallace to such prolonged isolation. His treatment by Louisiana authorities breached fundamental principles that all prisoners, regardless of their background, must be treated humanely.
Before being diagnosed with liver cancer in June, Herman Wallace's living conditions had already affected his physical and psychological health.
In 2007 a federal judge ruled that the conditions under which he was being held constituted a deprivation of basic human needs and that prison officials should have been aware that such treatment could be seriously harmful to the physical and mental health of prisoners.
In June 2013 following a late diagnosis that only came after he had lost over 50 pounds in weight, Herman Wallace was moved from isolation to a medium security dormitory in the prison infirmary. According to his lawyers both before and after his diagnosis he received substandard medical care from the prison authorities.
It is deplorable that Herman Wallace was not released from prison earlierto die in the care of his family.. Over 110,000 people petitioned the Governor of Louisiana to grant this request.
Albert Woodfox, who has also consistently maintained his innocence, remains in harsh conditions of isolation. His conviction was recently overturned by the federal court for the third time. However, he remains in prison pending a further appeal by the state.
Amnesty International continues to seek Albert Woodfox's immediate removal from isolation. In a case that has always been more about vengeance than justice, the state should immediately withdraw their appeal, and allow Albert Woodfox his freedom before it is too late.
4 October 2013
AMNESTY INTERNATIONAL PRESS RELEASE
Related Actions
Related Newses