23 Oct 2013

[International Secretariat]
Region: RUSSIAN FEDERATION
Topic: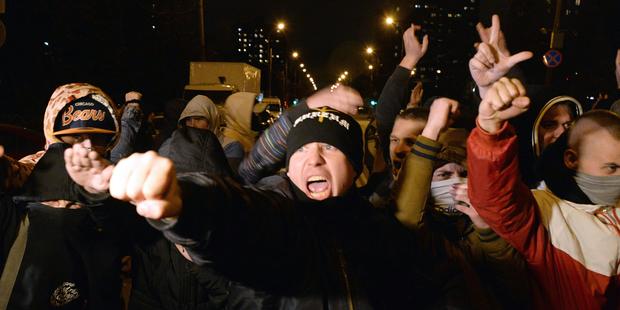 Rioters smashed windows and daubed immigrants' market stalls with Nazi insignia this weekend.(C) AFP/Getty Images
The arbitrary arrest and detention of more than 1,200 immigrants in a sweep operation at a Moscow market yesterday in response to the murder of an ethnic Russian man is just the latest example of disproportionate and discriminatory policing in Russia, Amnesty International has said.
An Azerbaijani man, who was not identified as a result of the wave of arrests, was today named as the suspect for the murder, which sparked major riots targeting migrants over the weekend.
"The Russian police's indiscriminate detention of more than a thousand migrants in the search for one alleged killer was deeply discriminatory and obviously unlawful," said Denis Krivosheev, Amnesty International's Russia researcher.
"It was clearly done for show and not for any justifiable legal reason. Police responses like this merely play to existing xenophobic attitudes and inflame them."
An angry mob rioted in the Moscow district of Biryulyovo this weekend over the stabbing of 25-year-old Yegor Shcherbakov, after it was reported that his killer may have been from Central Asia or the Caucasus.
Rioters smashed immigrants' windows, set fire to their shops and daubed their market stalls with Nazi insignia.
Such incidents have become increasingly common in Moscow, but most hate crimes are ignored by the police.
Many migrants have been attacked in the street by far-right vigilante groups demanding their immigration papers, with minimal response from the authorities.
Such is the prominence of xenophobia in Moscow that, in last month's mayoral election, both pro-government candidate Sergei Sobyanin and opponent Alexei Navalny had anti-immigrant policies at the core of their campaigns.
Some of the migrants arrested yesterday have already been released, but others will face administrative detention and fines while many more will be deported.
"The Russian authorities must tackle the growing problem of racism in Russia by addressing hate crimes against migrant groups and curbing the xenophobic rhetoric that permeates its politics and send the wrong message to society," said Denis Krivosheev.
15 October 2013
AMNESTY INTERNATIONAL PRESS RELEASE
Related Actions
Related Newses