5 Dec 2013

[International Secretariat]
Region: ISRAEL AND THE OCCUPIED PALESTINIAN TERRITORIES/PALESTINIAN AUTHORITY
Topic: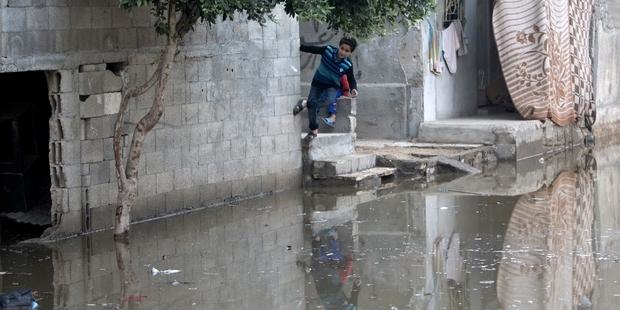 Children play in streets flooded with raw sewage in al-Zaytoun, south of Gaza City, after the shutdown.(C)MAHMUD HAMS/AFP/Getty Images
Israel must immediately lift its blockade on the Gaza Strip, including by allowing the delivery of fuel and other essential supplies into the territory without restrictions, said Amnesty International today.
For the last month, all of Gaza's 1.7 million residents have been living without power for most of the time and in the shadow of a public health catastrophe, after their sole power plant was forced to shut down, causing the failure of several sewerage and water plants.
"This latest harsh setback has exacerbated the assault on the dignity of Palestinians in Gaza and the massive denial of rights they have experienced for more than six years because of Israel's blockade, together with restrictions imposed by Egypt," said Philip Luther, Middle East and North Africa Director at Amnesty International.
"The blockade has collectively punished Gaza's population in violation of international law. The power plant shutdown has further affected all aspects of daily life, and the Israeli authorities must lift the blockade immediately, starting by allowing urgently needed fuel supplies into the Strip and working with all relevant parties to avert a prolonged humanitarian crisis this winter."
The power plant, which until recently supplied 30 per cent of the Gaza Strip's electricity, ran out of diesel fuel on 1 November. The resulting shutdown has exacerbated an ongoing water and sanitation crisis and has left Gaza residents without power for 16 hours a day.
Local authorities have struggled to clean up the spill, leaving some 3,000 residents wading through sewage. The clean-up finally began on 29 November, according to local residents, following efforts by the United Nations Relief and Works Agency for Palestine Refugees in the Near East (UNRWA) and other agencies, and an emergency donation from Turkey to pay for fuel for critical sewage stations.
"The reason for the flood of sewage was the blockade," a resident of al-Zaytoun told Amnesty International. "The question is, why is the blockade being allowed to continue? What is our crime? There is no justification for this situation. We just want to live like any other people in the world."
Before the current crisis, some 90 million litres of raw or partially treated sewage were being dumped into the sea off Gaza every day. Since the power plant shutdown, more raw sewage is being dumped into the sea. For years, more than 90 per cent of the water extracted from the Gaza aquifer has been polluted and unfit for human consumption due to the infiltration of sewage and seawater and prolonged over-extraction because of Israel's disproportionate use of water resources.
Water supply to households across the Strip, which was already rationed, has also been reduced since the power plant shutdown. Some 65 per cent of Gaza's population only receive water once every three or four days.
Hospitals and other health facilities throughout the Gaza Strip have been relying on their own generators during the lengthy power outages. But the generators are also affected by fuel shortages, jeopardizing essential services like kidney dialysis, operating theatres, blood banks, intensive care units, neo-natal care, and laboratories, putting patients' lives at risk.
A main factor triggering the shutdown was the Egyptian military's campaign to destroy tunnels between Gaza and Sinai – more than 90 per cent have been removed since June 2013. Since early 2011, the power plant was partially run on Egyptian diesel brought in through some of those tunnels – the amount dropped from about 1 million litres per day in June 2013 to around 20,000 litres per week in November.
Amnesty International is calling on the Egyptian authorities to facilitate construction of new power lines to increase the electricity supply to the southern Gaza Strip and work with Palestinian and Israeli authorities to find a sustainable solution to the fuel crisis.
1 December 2013
AMNESTY INTERNATIONAL PRESS RELEASE
Related Actions
Related Newses