4 Apr 2014

[International Secretariat]
Region: KINGDOM OF BAHRAIN
Topic: Year of Rebellion Human rights in the Middle East and North Africa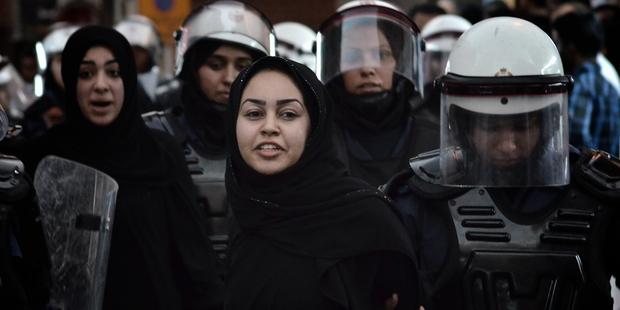 In previous years, the authorities have taken severe repressive measures against demonstrators ahead of the Formula One Grand Prix.(C) MOHAMMED AL-SHAIKH/AFP/GettyImages
As the eyes of the sporting world turn to Bahrain's Formula One Grand Prix this weekend, Amnesty International urges the country's authorities not to quash peaceful protests surrounding the event.
The Formula One racing tournament is due to take place in Bahrain from 4-6 April. In previous years, the authorities have taken severe repressive measures against pro-reform demonstrators, activists opposed to the Royal family and human rights campaigners during the event.
"Bahrain's authorities must not repeat past mistakes by restricting freedom of movement or crushing protests. The rights of people in Bahrain to peacefully to express their opposition to government policies and voice human rights concerns are legitimate and must be respected," said Said Boumedouha, Deputy Director of the Middle East and North Africa Programme at Amnesty International.
Opposition activists calling for a boycott of the Grand Prix have already been branded "traitors" by the government. There are fears that the authorities may use recent unrest, including terror attacks on police, to justify imposing further restrictions during the Grand Prix.
During previous Grand Prix events, foreign and local journalists were barred from covering protests, with some deported from Bahrain for attempting to do so without permission.
"Three years on from the 2011 uprising, Bahrain has seen only cosmetic changes and empty promises of reform. Arbitrary arrests, crackdowns on protests and torture in custody continue unabated. Using the Grand Prix to boost Bahrain's public image is little more than a blatant attempt to gloss over mounting abuses with the hype of an international sporting event."
Grand Prix injustice
Two years after Salah 'Abbas Habib's death during the 2012 Bahrain Grand Prix, his family is still awaiting justice. The 37-year-old was shot dead by security forces on 20 April 2012 following protests in Manama.
During last year's Bahrain Grand Prix, Nafeesa al-'Asfoor, 31, and Rayhana al-Mousawi, 38, were arrested after they attempted to enter the Formula One circuit to protest against the imprisonment of political activists. Both have been charged with the intent to commit terrorist acts and possession of explosives.
Tuesday 1 April 2014
AMNESTY INTERNATIONAL PRESS RELEASE
Related Actions
Related Newses