17 Jun 2014

[International Secretariat]
Region: KINGDOM OF THAILAND
Topic: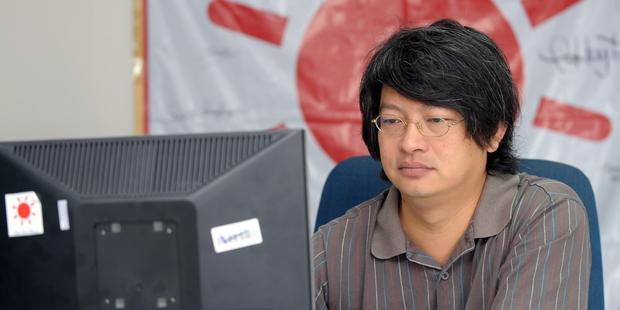 Sombat Boonngamanong, a prominent social activist, was arrested last night in Chonburi.(C)PORNCHAI KITTIWONGSAKUL/AFP/Getty Images
The arrest of a high-profile anti-coup protest leader and military court summons of seven peaceful protesters are the latest moves in a systematic and widening crackdown on key human rights by Thailand's military, Amnesty International said.
Sombat Boonngamanong, a prominent social activist, was arrested last night in Chonburi. He had publicly refused to observe orders for him to report to the military, and from hiding issued online calls for peaceful protests.
This is the latest in a disturbing wave of arrests of people purely voicing disquiet about the military regime. The army's course of action is looking increasingly like a purge.
In another worrying development, the military court in Chiang Rai today summoned seven individuals who had taken part in symbolic anti-coup protests. The former Education Minister Chaturon Chaisaeng, arrested last week, was granted bail by the Bangkok military court but is facing prosecution for voicing peaceful opposition to the coup.
The charges against these seven peaceful protesters, Chaturon Chaiseng and anyone else detained solely on the basis of acts of peaceful dissent must be dropped immediately.
Since seizing power on 22 May, the military regime has adopted increasingly repressive measures to crack down on and effectively silence politicians, academics and activists, in violation of Thailand's obligations under international human rights law.
More than 300 individuals, have been ordered to report to the military, and a large majority have been arbitrarily detained for up to a week.
Critics of the lèse majesté law, or persons charged under it, have been particularly targeted for arbitrary detention and may face unfair trials in military courts and years of imprisonment. Amnesty International is concerned that the military regime may use this law even more extensively to penalize peaceful dissent as repression intensifies.
"The military's crackdown on peaceful dissent must end immediately. There must be a halt to arbitrary and incommunicado detention, and the threat of imprisonment for peaceful dissent. Any other measures to silence political discussion and debate, and to remove people from participation in public life, must also end," said Richard Bennett.
6 June 2014
AMNESTY INTERNATIONAL PRESS RELEASE
Related Actions
Related Newses