26 Jun 2014

[International Secretariat]
Region: PEOPLE'S REPUBLIC OF CHINA
Topic: Individual at risk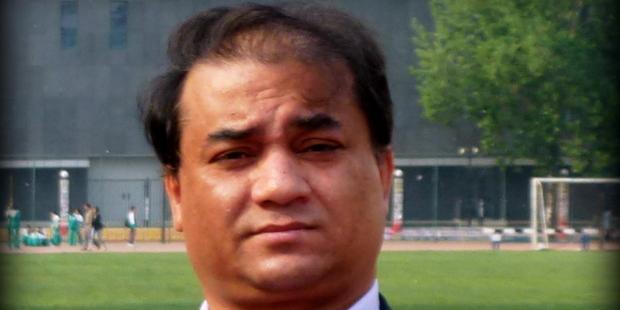 Ilham Tohti is a prominent Uighur professor who has been formally arrested for "separatism"in China.(C) Private
The secret trial of a prominent Uighur scholar on charges of "separatism" makes a mockery of China's claims to be a country based on the rule of law, Amnesty International said.
Prominent Uighur scholar, Ilham Tohti, who was arrested in January 2013, has reportedly been secretly tried by a court of the Xinjiang Production and Construction Corps – a semi-military organization - according to the South China Morning Post (SCMP). If convicted he faces anything from 10 years to life in prison, or even the death penalty.
"If these reports about a 'secret trial' prove to be true, this will truly be another dent in China's facade of being a country based on the rule of law. Tohti has been held incommunicado for the past six months with no access to lawyers in clear breach of international human rights law," said William Nee, Amnesty International's China Researcher.
"With violence on the rise in the Xinjiang Uighur Autonomous Region, it's difficult to grasp why the authorities would target a prominent Uighur intellectual known for his commitment to non-violence and dialogue between ethnic groups. The relentless efforts by the authorities to silence and imprison Ilham Tohti have to be seen in the larger context of widespread repression of Uighurs."
Tohti's lawyer, Li Fangping, yesterday told the SCMP that he has received information about the secret trial from two sources, but the authorities would neither confirm nor deny this.
Tohti, founder of Uighur Online website and an outspoken critic of Beijing's policies on Uighurs, is believed to be currently held in a detention centre in Urumqi, provincial capital of Xinjiang Uighur Autonomous Region (XUAR). He was taken away from his home in Beijing by public security officers on 25 January 2014. Even after nearly six months in detention his lawyer has not been allowed to visit him.
Harsh "anti-terror" response
Tohti's secret trial comes amid an anti-terrorism "strike hard" campaign, launched on 23 May by the Chinese authorities, one day after a deadly bombing attack on a market in Urumqi that killed 39 and injured 94.
China's response to the recent wave of violent attacks allegedly carried out by suspected Uighur groups has been very worrying. Suspects have been rounded up and tried in large numbers, and with such speed that it raises serious questions about the fairness of trials.
"The harsh, politicized response towards any peaceful Uighur critics – not to mention other people in the New Citizen's Movement – essentially rules out the possibility of any meaningful dialogue," said William Nee.
18 June 2014
AMNESTY INTERNATIONAL PRESS RELEASE
Related Actions
Related Newses