10 Jul 2014

[International Secretariat]
Region: UNION OF MYANMAR
Topic: Individual at risk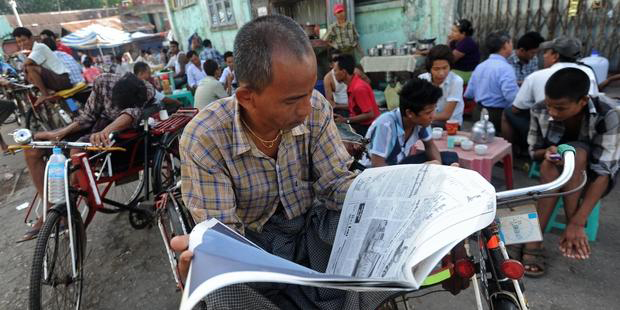 Myanmar is continuing to rely on draconian laws to silence dissenting views. (C) Soe Than WIN/AFP/Getty Images
The sentencing of five media workers in Myanmar each to 10 years' imprisonment with hard labour for "disclosing state secrets" makes today a dark day for freedom of expression in the country, Amnesty International said.
A court in the town of Pakokku today handed down the sentences to four reporters and the CEO of the Unity newspaper – Lu Maw Naing, Yarzar Oo, Paing Thet Kyaw, Sithu Soe and Tint San.
They were arrested between 31 January and 1 February 2014 and charged with violating the Official Secrets Act, after Unity published an article about an alleged chemical weapons factory in Magwe region.
"This is a very dark day for freedom of expression in Myanmar. These five media workers have done nothing but cover a story that is in the public interest," said Rupert Abbott, Amnesty International's Deputy Asia-Pacific Director.
"Amnesty International considers all five men to be prisoners of conscience and calls for their immediate and unconditional release."
"Today's sentences expose the government's promises to improve the human rights situation in the country as hollow ones. They reflect a wider crackdown on free media since the beginning of the year, despite government assurances that such practices would end."
"The authorities are continuing to rely on draconian laws to silence dissenting views or fair reporting, just like the previous military government did. The authorities must scrap or amend all legislation that unlawfully restricts the rights to freedom of expression, association and peaceful assembly."
Background
Despite promises by President Thein Sein last year that Myanmar would have no more prisoners of conscience by the end of 2013, arrests and imprisonment of peaceful activists and human rights defenders have continued.
Amnesty International is particularly concerned about the arrest and detention of journalists and other media workers. On 8 July 2014, three editors from the Bi Mon Te Nay journal were reportedly detained after publishing an article the previous day claiming that opposition leader Aung San Suu Kyi and some ethnic leaders had been appointed as an interim government.
10 July 2014
AMNESTY INTERNATIONAL PRESS RELEASE
Related Actions
Related Newses