4 Aug 2014

[International Secretariat]
Region: UNITED STATES OF AMERICA
Topic: Regional conflict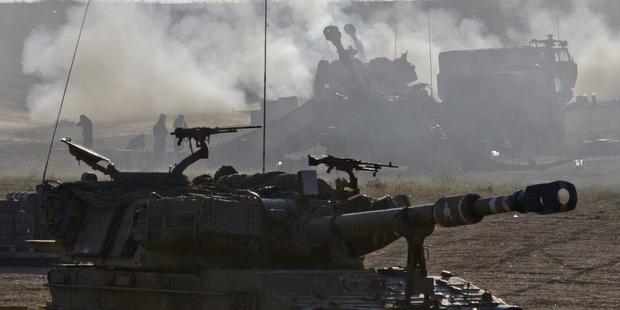 US arms shipments to Israel are providing the tools for further serious violations in Gaza.(C) EPA
The US government must immediately end its ongoing deliveries of large quantities of arms to Israel, which are providing the tools to commit further serious violations of international law in Gaza, said Amnesty International, as it called for a total arms embargo on all parties to the conflict.
The call comes amid reports that the Pentagon has approved the immediate transfer of grenades and mortar rounds to the Israeli armed forces from a US arms stockpile pre-positioned in Israel, and follows a shipment of 4.3 tons of US-manufactured rocket motors, which arrived in the Israeli port of Haifa on 15 July.
These deliveries add to more than US$62 million worth of munitions, including guided missile parts and rocket launchers, artillery parts and small arms, already exported from the USA to Israel between January and May this year.
Palestinian armed groups have continued to fire rockets indiscriminately into Israel, endangering civilians in flagrant violation of international law.
Last week the speaker of the Iranian parliament said Iran had provided arms manufacturing know-how to Hamas in Gaza. In November 2013 he said Iran had given both financial and military support to Hamas and the Commander of Iran's Revolutionary Guards said missile technology has been supplied.
The news on 30 July that the USA had allowed the resupply of munitions to Israel came the same day the US government condemned the shelling of a UN school in Gaza which killed at least 20 people, including children and UN humanitarian workers.
Amnesty International is calling on the UN to immediately impose a comprehensive arms embargo on Israel, Hamas and Palestinian armed groups with the aim of preventing violations of international humanitarian law and human rights by all sides.
In the absence of a UN arms embargo, the organization is calling on all states to unilaterally suspend all transfers of military equipment, assistance and munitions to all parties to the conflict. They should not resume until violations committed in previous conflicts are properly investigated with those responsible brought to justice.
As the leading arms exporter to Israel, the USA must lead the way and demonstrate its proclaimed respect for human rights and international humanitarian law by urgently suspending arms transfers to Israel and pushing for a UN arms embargo on all parties to the conflict.
31 July 2014
AMNESTY INTERNATIONAL PRESS RELEASE
Related Actions
Related Newses