14 Aug 2014

[International Secretariat]
Region: UNITED KINGDOM OF GREAT BRITAIN AND NORTHERN IRELAND
Topic: Regional conflict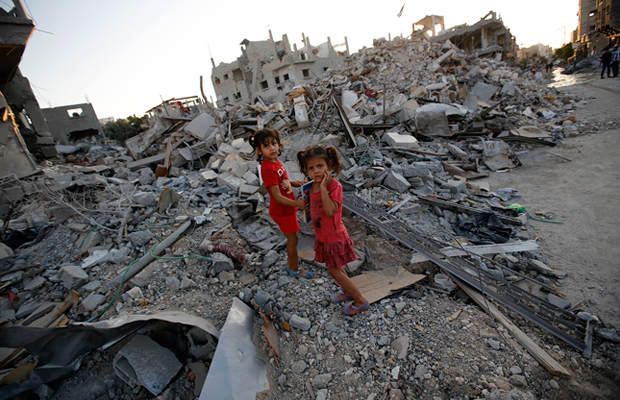 Palestinian two sisters Iman, 5, and Nirmen, 4, amidst the rubble of their destroyed home in the Al-Masryeen neighbourhood east of Beit Hanun town, northern Gaza Strip on, 12 Augast 2014. (C)Mahammed-Saber-epa
Responding to news that the UK government will suspend just 12 export licences for arms and other military equipment to Israel, and only if 'significant hostilities' resume once the current ceasefire ends at midnight tonight, Amnesty International UK arms expert Oliver Sprague said:
"On the surface this announcement appears to show the government finally taking a responsible position over arms sales to Israel. In fact the exact opposite is true. It marks a significant weakening of our existing rules designed to prevent UK arms fuelling war crimes and serious human rights abuses.
"To say that these 12 licences for the sale of arms will only be suspended if the situation gets worse is a massive step backwards for the UK's own arms trade controls. The government's own review has identified them as components which could be part of equipment used by the Israel Defence Forces in Gaza.
"Current rules state that that all sales of arms should be stopped in light of the current crisis, but with this announcement the government has re-written the rules to allow such irresponsible arms sales to continue. This sets a very dangerous precedent. Rather than give the benefit of the doubt to the victims of indiscriminate bombing, it allows the arms exporters to pretty much continue business as usual.
"The Israeli military's past record in the Occupied Territories, especially Gaza and the West Bank, raises serious questions over whether the UK should have been selling these arms to Israel in the first place.
"Given the substantial risks that arms and related technology will be used to commit or facilitate serious violations of international human rights or humanitarian law, the UK must immediately suspend arms sales to Israel and press strongly for a UN arms embargo against Israel, Hamas and other armed Palestinian groups."
13 August 2014
AMNESTY INTERNATIONAL UK PRESS RELEASE