19 Aug 2014

[International Secretariat]
Region: REPUBLIC OF IRAQ
Topic: Regional conflict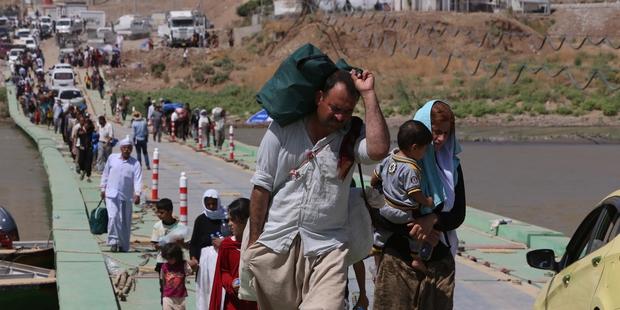 Displaced Iraqis from the Yezidi community cross the Iraqi-Syrian border along the Fishkhabur bridge in northern Iraq.(C)AHMAD AL-RUBAYE/AFP/Getty Images
The international community must urgently mount a concerted humanitarian response to assist hundreds of thousands of people across northern Iraq fleeing ethnic cleansing by the forces of the Islamic State in Iraq and al-Sham (ISIS or IS).
"Those trapped on Sinjar Mountain surrounded by ISIS militants make up a tiny percentage of the hundreds of thousands from minority communities displaced by the conflict, now stranded in dire conditions."
The international response to large scale displacement of civilians from areas seized by ISIS has been woefully inadequate to date. Even much publicized emergency air-drops to members of the Yezidi community stranded in villages on the Sinjar Mountain have proved largely ineffective.
"We have nothing, nothing has come to us. We hear the planes in the distance but nobody has come to us or sent us anything. We can't leave. ISIS will catch us and kill us if we do." a man trapped in a village on the Sinjar Mountain, told Amnesty International.
Hundreds of survivors from the mountain and many still stuck there told Amnesty International said that no aid had reached them and many said water bottles air-dropped in recent days often broke on impact.
"The Iraqi central government, the Kurdish Regional Government, donor countries and international agencies must take concerted action to provide safe shelter and humanitarian assistance to men, women and children of all backgrounds forced to flee in the face of such ferocious brutality," said Donatella Rovera.
ISIS has mounted systematic attacks on minority communities in northern Iraq, aiming to drive non-Sunni populations from the areas under their control.
Meanwhile, with US air strikes now hitting ISIS positions and a likely further escalation of air attacks on ISIS targets by US and Iraqi forces, Muslim Sunni civilians living in ISIS controlled areas fear for their safety.
"Millions of Sunni Muslims are still living in ISIS-controlled areas – and not necessarily by choice," said Donatella Rovera.
"Several have already been killed in Iraqi air force strikes on these areas. Just last week a lecturer from Mosul University, his wife and their four young children were all killed in one such attack. Similar incidents have been repeated across of the country.
"All forces operating in the area must at all times distinguish between military objectives and civilians; attacks can only be directed at military targets. Indiscriminate attacks are prohibited under international law."
12 August 2014
AMNESTY INTERNATIONAL PRESS RELEASE
Related Actions
Related Newses