19 Sep 2014

[International Secretariat]
Region: KINGDOM OF THAILAND
Topic: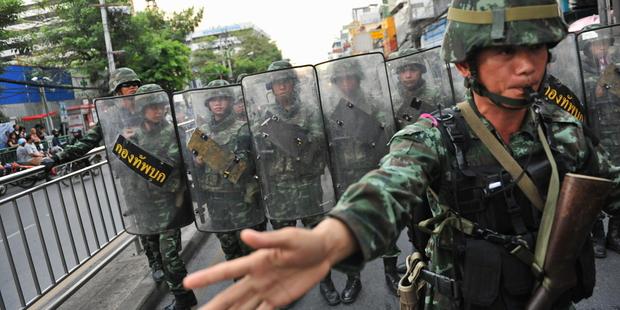 Thailand's military imposed Martial Law on 20 May 2014 and seized power two days later.(C) epa
Hundreds of arbitrary detentions, reports of torture and other ill-treatment, sweeping restrictions on freedom of expression and peaceful assembly and unfair trials in military courts are creating a climate of fear in Thailand, and there are no signs of a let-up, Amnesty International said today in a new report.
The report, Attitude adjustment –100 days under Martial Law, is the first comprehensive investigation into Thailand's human rights situation since the military imposed Martial Law on 20 May 2014 and seized power two days later.
"Three months since the coup, a picture emerges from our investigations of widespread and far-reaching human rights violations perpetrated by the military government that are ongoing," said Richard Bennett, Amnesty International's Asia-Pacific Director.
"The Thai authorities should end this disturbing pattern of repression, end human rights violations, respect its international human rights obligations and allow open debate and discussion."
Arbitrary detentions
In an effort to "adjust attitudes" and stifle dissent, the military government – known as the National Council for Peace and Order(NCPO) – has engaged in systemic arbitrary arrests and detentions of hundreds of people, many of them allies of the former government, in violation of their right to liberty and other human rights.
Although most were held for only up to seven days, they were detained without charge or trial, denied access to lawyers and sometimes held incommunicado. They are now living with the threat of prosecution after signing waivers promising not to engage in "political activity" as a pre-condition for their release.
Torture and other ill-treatment
Amnesty International has received credible reports of a number of people being tortured ranging from beatings and asphyxiation to mock executions. Torture is a long-standing problem in Thailand and was rife in places of detention particularly in areas where Martial Law was imposed previously.
Kritsuda Khunasen, a political activist who was detained on 27 May 2014, said she was badly and repeatedly beaten by soldiers and asphyxiated with a plastic bag during interrogation.
Freedom of expression and peaceful assembly
The NCPO has also imposed sweeping restrictions on the rights to freedom of expression and peaceful assembly, which has had a chilling effect on public debate and led to widespread self-censorship.
Hundreds of websites have been taken down or blocked, censorship panels have been set up to monitor media and people have been threatened with imprisonment for posting anything deemed critical of the military online.
Human rights defenders
Restrictions on the rights to freedom of expression and peaceful assembly have had serious implications for the vital work of human rights defenders and organizations, including Amnesty International's national Section in Thailand.
Human rights groups have been ordered not to hold peaceful events, while criminal defamation charges and prosecutions initiated before the coup against journalists and human rights activists are continuing.
Recommendations
The report sets out a series of recommendations to the Thai authorities to restore respect for human rights, and to ensure that Thailand is meeting its international obligations.
"Members of the international community should take all opportunities, including the current session of the Human Rights Council, to encourage Thailand's military government to change its course and ensure the respect for human rights that is necessary if it is to achieve its stated aim of national reconciliation."
11 September 2014
AMNESTY INTERNATIONAL PRESS RELEASE
Related Actions
Related Newses