26 Sep 2014

[International Secretariat]
Region: CZECH REPUBLIC
Topic: Rights of the Child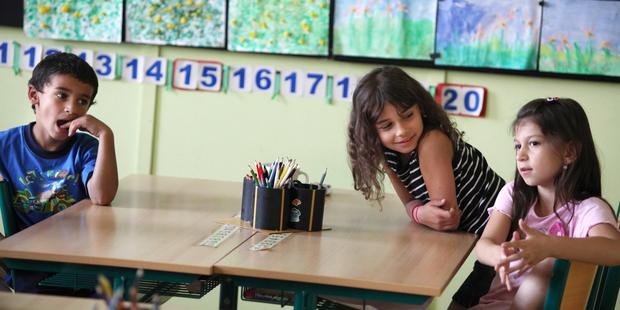 For years, Amnesty International has documented systemic discrimination against Roma children in Czech schools.(C) Jiri Dolezel
Amnesty International today welcomed the European Commission's announcement that it would use its powers to initiate infringement proceedings against the Czech Republic for breaching European Union (EU) anti-discrimination legislation.
"For years, Amnesty International has documented systemic discrimination against Roma children in Czech schools. Yet the Czech government has so far failed to take effective measures to prevent, address and remedy this," said Nicolas J. Beger, Director of Amnesty International's European Institutions Office.
"In agreeing to launch infringement proceedings, the Commission has sent a clear message to the Czech Republic and other member states - systemic discrimination towards Roma cannot and will not be tolerated."
The pre-litigation mechanism enables the Commission to hold the Czech government accountable for, and publicly and politically put pressure on it to end, the ongoing, systemic and unlawful practice of discrimination against Romani children in Czech schools.
The announcement comes one and a half years after Amnesty International and other civil society organizations called on the Commission to engage with the Czech government through infringement proceedings to tackle education discrimination against Romani children. The organization presented a petition with nearly 100,000 signatures gathered in under three months calling on the Commission to take stronger action against EU member states failing to implement EU anti-discrimination legislation to protect Roma. These calls were based on evidence, gathered over a decade, of widespread unlawful discrimination against Romani children in Czech education, notably through segregation into schools for pupils with 'mild mental disabilities' or Roma-only schools, or classes offering lower educational standards.
"Education is a human right that must be guaranteed to all children. Discrimination through segregated education is unlawful. It leads to poorer education and limits future employment opportunities, trapping Romani children in a vicious cycle of marginalization and exclusion," added Beger.
A 2013 survey by the Czech Schools Inspectorate (the national body responsible for ensuring schools comply with national legislation) exposed the disproportionately high number of Romani children in schools for pupils with 'mild mental disabilities'. The monitoring of 483 schools with five or more pupils with this diagnosis found that a staggering 28.2% of them were Roma. However, Roma make up less than three percent of the total population. The Czech Ombudsperson (responsible for monitoring and ensuring compliance with anti-discrimination legislation) found this to be discriminatory in 2012.
The prospects for Romani children that do make it to 'main-stream' education are not much better. Many are segregated into schools and classes with lower educational standards. In 2014, Amnesty International has continued to collect evidence of Roma-only mainstream schools in which the educational programmes followed differed very little from those of schools for pupils with 'mild mental disabilities'.
"Today the Commission has lived up to its role as 'guardian of the EU Treaties', upholding EU law, and challenging member states for violating fundamental rights," said Beger. "The Commission's words must now be followed by swift, concrete, and consistent action to hold the Czech Republic accountable and stop discrimination. This will be essential to protect not only the current and future generations of Roma in the Czech Republic, but across the EU, where they continue to face routine discrimination."
25 September 2014
AMNESTY INTERNATIONAL PRESS RELEASE