29 Sep 2014

[International Secretariat]
Region:
Topic: Arms Trade Treaty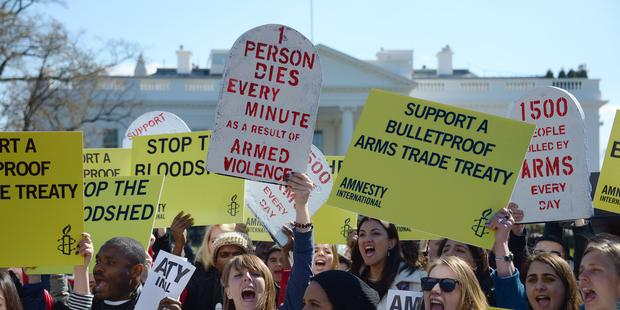 The global Arms Trade Treaty will soon become legally binding now that 50 states have ratified.(C) AFP/Getty Images
Protection for the millions of people whose lives are devastated by the poorly regulated global arms trade is set to take a giant leap forward on Thursday, Amnesty International said with the historic Arms Trade Treaty expected to surpass the 50 ratifications needed to trigger a 90 day countdown to entry into force.
Argentina, the Bahamas, Czech Republic, Portugal, Saint Lucia, Senegal and Uruguay are expected to be the latest states to confirm ratification of the treaty at a ceremony at the UN in New York. The ATT now looks set to become international law on 24 December 2014 binding all the countries that have ratified it by then.
"This is a milestone in the fight to end the human suffering caused by the irresponsible flow of arms. By the end of this year, there will be robust global rules to stop arms going to human rights abusers," said Salil Shetty, Secretary General of Amnesty International.
"This remarkable progress would not have been possible without the support of more than a million people who helped keep up the pressure on governments and said 'enough is enough, the supply of arms for atrocities and abuses must stop'. But the campaign does not stop here, all states need to urgently bite the bullet and commit to the Arms Trade Treaty."
Amnesty International has lobbied and campaigned relentlessly since the mid-1990s for an Arms Trade Treaty. At least half a million people die every year on average and millions more are injured, raped and forced to flee from their homes as a result of the poorly regulated global trade in weapons.
The ATT includes a number of rules to stop the flow of weapons to countries when it is known they would be used to commit or facilitate genocide, crimes against humanity, war crimes or other serious violations of human rights.
Five of the top 10 arms exporters–--France, Germany, Italy, Spain and the UK have already ratified the ATT. While the USA is yet to ratify it has signed the treaty. There has been resistance to ratification from other major arms producers like China, Canada, Israel and Russia.
"If political leaders are serious about ending the flow of arms used to commit crimes against humanity, war crimes and persistent gun violence that denies people their human rights then governments must join the Arms Trade Treaty and start implementing it effectively. There can be no excuses for inaction or double-talk when it comes to this lifesaving treaty," said Salil Shetty.
25 September 2014
AMNESTY INTERNATIONAL PRESS RELEASE