29 Sep 2014

[International Secretariat]
Region: PEOPLE'S REPUBLIC OF CHINA
Topic: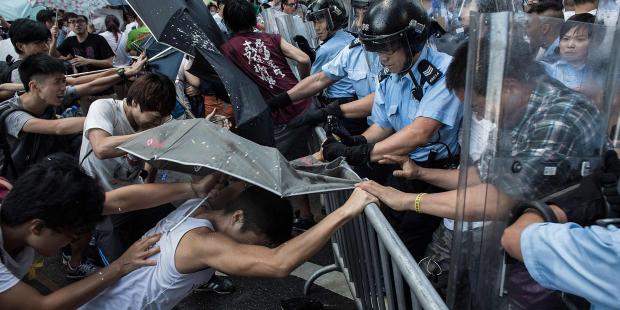 Police clash with student pro-democracy protesters in Hong Kong. Students use umbrellas as shields from pepper spray.(C) Lam Yik Fei/Getty Images
The quick use of pepper spray and arrests by Hong Kong police during pro-democracy demonstrations last night and today has renewed fears the authorities will fail to uphold the rights to peaceful assembly and free expression at larger protests planned for next week, Amnesty International said.
On Friday night, a week-long sit-in by thousands of students culminated in a group of protesters entering the fenced-off Civic Square in front of the local government's headquarters, while thousands continued to demonstrate outside.
The police reacted by using pepper spray inside and outside of the square and carrying out arrests. Around 70 people remained boxed-in by police in the square overnight and were arrested on Saturday afternoon.
"The police response to events on Friday night is a disturbing sign that the Hong Kong authorities will take a tough stance against any peaceful protest blocking the financial district," said Mabel Au, Director of Amnesty International Hong Kong.
"The quick use of pepper spray, deployment of riot police in full gear and arrests at government headquarters does not bode well for the potentially massive protests expected this week. All those being held solely for exercising their rights to freedom of expression and assembly must be immediately and unconditionally released."
Organizers of the Occupy Central movement have called for up to 10,000 protesters to block the financial district in the centre of Hong Kong on 1 October, China's National Day. The protesters are angry about Beijing's recent decision on how "universal suffrage" is to be implemented in the territory, which they fear will rule out fully democratic elections in 2017.
"Any decision to disperse a peaceful demonstration must be taken as a last resort. It is a violation of international law to arrest and detain people solely for exercising their rights to freedom of expression and peaceful assembly," said Mabel Au.
"Any use of force by the police is unnecessary if it is a peaceful demonstration and no legitimate reasons to use force are apparent. It is important to remember that a peaceful assembly does not lose its peaceful character even if some individuals behave unlawfully."
"Police have a responsibility to actually facilitate peaceful protests rather than target people who have every right to participate in them."
Amnesty International urges the authorities to uphold their obligations under international and domestic law to respect the right to freedom of expression and peaceful assembly. Authorities must also ensure that all people arrested have prompt access to lawyers, as well as medical attention where requested.
Hong Kong is bound by the International Covenant on Civil and Political Rights. Article 27 of Hong Kong's "mini-constitution", the Basic Law, guarantees "freedom of speech, of the press and of publication; freedom of expression, of assembly of procession and demonstration."
Peaceful protest is a legitimate use of public space, whether that space is a public park or a financial district.
"Authorities have no right to brand a peaceful protest 'illegal' just because traffic is disrupted for some time, or because they did not authorize it in advance," said Mabel Au.
Hong Kong law requires organizers to apply for permission to hold demonstrations. Under international law, protests do not require approval by the authorities, though advance notice can be requested.
27 September 2014
AMNESTY INTERNATIONAL PRESS RELEASE
Related Actions
Related Newses