29 Oct 2014

[International Secretariat]
Region: FEDERAL DEMOCRATIC REPUBLIC OF ETHIOPIA
Topic: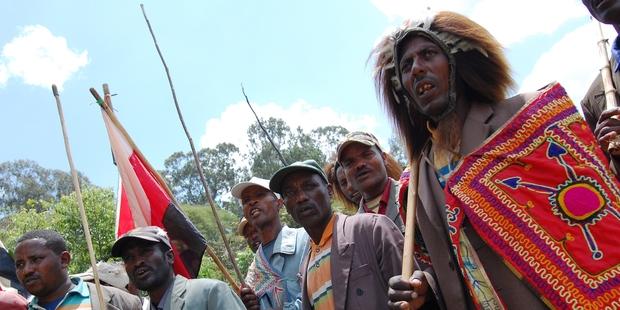 Ethiopia's largest ethnic group, the Oromo, are being ruthlessly targeted by the state.(C)AFP/Getty Images
Thousands of membs of Ethiopia's largest ethnic group, the Oromo, are being ruthlessly targeted by the state based solely on their perceived opposition to the government, said Amnesty International in a new report released today.
"Because I am Oromo" – Sweeping repression in the Oromia region of Ethiopia exposes how Oromos have been regularly subjected to arbitrary arrest, prolonged detention without charge, enforced disappearance, repeated torture and unlawful state killings as part of the government's incessant attempts to crush dissent.
"The Ethiopian government's relentless crackdown on real or imagined dissent among the Oromo is sweeping in its scale and often shocking in its brutality," said Claire Beston, Amnesty International's Ethiopia researcher.
"This is apparently intended to warn, control or silence all signs of 'political disobedience' in the region."
More than 200 testimonies gathered by Amnesty International reveal how the Ethiopian government's general hostility to dissent has led to widespread human rights violations in Oromia, where the authorities anticipate a high level of opposition. Any signs of perceived dissent in the region are sought out and suppressed, frequently pre-emptively.
At least 5,000 ethnic Oromos have been arrested between 2011 and 2014 based on their actual or suspected peaceful opposition to the government.
These include peaceful protesters, students, members of opposition political parties and people expressing their Oromo cultural heritage.
In addition to these groups, people from all walks of life – farmers, teachers, medical professionals, civil servants, singers, businesspeople, and countless others – are regularly arrested in Oromia based only on the suspicion that they don't support the government.
Family members of suspects have also been targeted – based only on the suspicion they shared or 'inherited' their relative's views – or are arrested in place of their wanted relative.
Many of those arrested have been detained without charge for months or even years and subjected to repeated torture. Throughout the region, hundreds of people are detained in unofficial detention in military camps.
Dozens of actual or suspected dissenters have been killed.
The majority of those targeted are accused of supporting the Oromo Liberation Front (OLF) - the armed group in the region.
However, the allegation is frequently unproven as many detainees are never charged or tried. Often it is merely a pretext to silence critical voices and justify repression.
"People are arrested for the most tenuous of reasons: organizing a student cultural group, because their father had previously been suspected of supporting the OLF or because they delivered the baby of the wife of a suspected OLF member. Frequently, it's because they refused to join the ruling party," said Claire Beston.
In April and May 2014, events in Oromia received some international attention when security forces fired live ammunition during a series of protests and beat hundreds of peaceful protesters and bystanders. Dozens were killed and thousands were arrested.
"These incidents were merely the latest and bloodiest in a long pattern of suppression. However, much of the time, the situation in Oromia goes unreported," said Claire Beston.
Amnesty International believes there is an urgent need for intervention by regional and international human rights bodies to conduct independent investigations into these allegations of human rights violations in Oromia.
28 October 2014
AMNESTY INTERNATIONAL PRESS RELEASE