REPUBLIC OF INDONESIA: Report reveals endemic judicial flaws in death penalty cases
REPUBLIC OF INDONESIA: Report reveals endemic judicial flaws in death penalty cases
17 Oct 2015

[International Secretariat]
Region: REPUBLIC OF INDONESIA
Topic: Abolition of the Death Penalty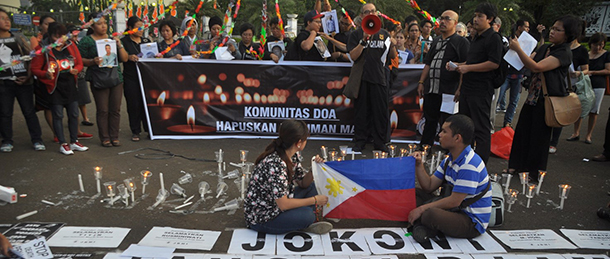 Prayer vigil in jakarta rejects the death penalty in indonesia © Demotix
Death row prisoners in Indonesia are routinely denied access to lawyers and are coerced into "confessions" through severe beatings, while foreign nationals facing the death penalty had to deal with a judicial system they hardly understand, Amnesty International said in a new report today.
Flawed Justice exposes how the government under President Joko "Jokowi" Widodo has made a mockery of international law by carrying out 14 executions since taking office, while the lives of scores more prisoners now on death row could be at risk.
"Indonesia's callous U-turn on executions has already led to the death of 14 people, despite clear evidence of flagrant fair trial violations. The government might claim to be following international law to the letter, but our investigation shows the reality on the ground is very different with endemic flaws in the justice system," said Josef Benedict, Amnesty International's South East Asia Campaigns Director.
Despite strong signs that Indonesia had moved away from the death penalty in recent years, the government of President Widodo - which took office in October 2014 - has scaled up executions significantly.
Of the 14 people who have been sent before the firing squad in 2015, 12 were foreigners and all were convicted on drugs charges. The government has vowed to use the death penalty to tackle a national "drugs emergency", despite there being no evidence that the threat of execution can work as more of a deterrent to crime than a prison sentence. President Widodo has also said he will reject all clemency petitions of death row prisoners on drug charges.
Amnesty International's investigation into 12 individual death row cases reveals emblematic flaws in the Indonesian justice system, which raises serious questions about the country's use of the death penalty.
Forced confession
In half of the cases, death row prisoners claimed that they had been coerced into "confessing" to their crimes, including through severe beatings at the hands of police officers in detention. Many claim to have been tortured or ill-treated, yet Indonesian authorities have never followed up to investigate these allegations.
The findings in Flawed Justice echo those of other national and international human rights organizations, who have found evidence of systematic and widespread torture or other ill-treatment by the Indonesian police with impunity.
Foreign nationals
Twelve out of the 14 people executed in Indonesian in 2015 were foreign nationals, and at least 35 other foreigners are currently on death row in the country.
But Amnesty International's findings show that in numerous instances Indonesia violates the rights of foreign death row prisoners by denying them interpretation during or before trial, making them sign documents in a language they don't understand, or refusing access to consular services.
Additionally in 2015, Indonesia put to death one man suffering from a severe mental disability in violation of international law. Brazilian Rodrigo Gularte had been diagnosed with paranoid schizophrenia.
Background
Twenty-seven people were executed between 1999 and 2014, under Indonesia's first four democratic-era presidents. No executions were carried out between 2009 and 2012.
According to figures obtained from the Law and Human Rights Ministry on 30 April 2015, there were at least 121 people death row. These include 54 people convicted of drug-related crimes, two convicted on terrorism charges and 65 convicted of murder.
15 October 2015
AMNESTY INTERNATIONAL PRESS RELEASE
Related Actions
Related Newses