10 Nov 2015

[International Secretariat]
Region: REPUBLIC OF YEMEN
Topic: Regional conflict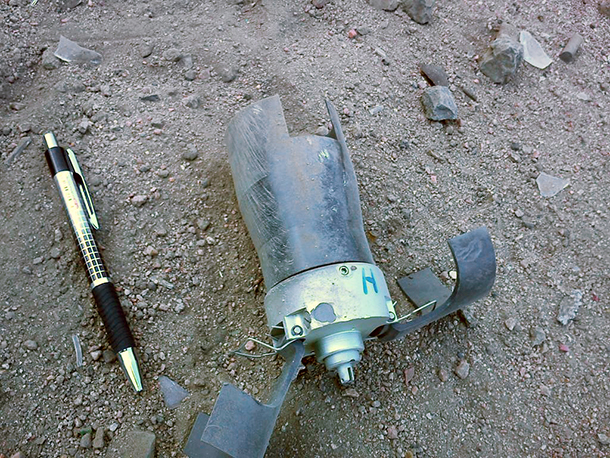 Unexploded submunitions pictured at the attack site bear similarities to Brazilian-manufactured cluster bombs Saudi Arabia is known to have used in the past. The attack was on a residential neighbourhood in Ahma, Sa'da, Northern Yemen on 27 October 2015.
Saudi Arabia-led coalition forces appear to have used a Brazilian variant of internationally banned cluster munitions on a residential neighbourhood in Ahma in Sa'da, northern Yemen, this week, wounding at least four people and leaving dangerous unexploded submunitions strewn around the surrounding farmland, Amnesty International said today.
The organization interviewed a number of local residents including two victims, the medical personnel treating them, an eyewitness and a local activist who visited the site shortly after the attack. Unexploded "duds" pictured at the attack site bear similarities to Brazilian-manufactured cluster bombs Saudi Arabia is known to have used in the past.
"Because cluster munitions are inherently indiscriminate weapons, their use is prohibited by customary international humanitarian law." said Philip Luther, Middle East and North Africa Programme Director at Amnesty International.
"In addition to killing and injuring civilians when they are initially used, many submunitions fail to explode upon impact and continue to pose a risk to the lives of anyone who comes into contact with them for years. The Saudi Arabia-led coalition must immediately cease their use and all sides should publicly commit never to deploy cluster munitions and agree to join the global Convention on Cluster Munitions."
Eyewitness accounts
The cluster munition attack was carried out at around noon on 27 October 2015 in a residential area of Ahma near Sa'da city. Ahma is approximately 40km south of the border with Saudi Arabia.
The nearest military objective known to Amnesty International is a market in al-Talh which is known to sell weapons and has been targeted by airstrikes on at least five different occasions since the start of the Saudi Arabia-led bombardment campaign in March.
Eyewitnesses described how a series of rockets screamed across the sky and exploded in mid-air, followed by dozens of explosions on the ground. These accounts and the remnants found on the ground are consistent with the use of cluster munitions fired via surface-to-surface rockets, using a multiple launch rocket system (MLRS).
Banned cluster bombs
The use, production, sale and transfer of cluster munitions is prohibited under the 2008 Convention on Cluster Munitions, which has almost 100 states parties.
Even though Brazil, Yemen, Saudi Arabia and the other members of the Saudi Arabia-led coalition participating in the conflict in Yemen are not parties to the Convention, under the rules of customary international humanitarian law they must not use inherently indiscriminate weapons, which invariably pose a threat to civilians.
Brazilian ASTROS II
This marks the first suspected use of Brazilian-made cluster munitions in the conflict.
Several Brazilian companies produce cluster munitions. The make and model of the submunitions that dropped on Ahma bear similarities to one manufactured by a Brazilian company called Avibrás Indústria Aeroespacial SA.
According to Landmine and Cluster Munition Monitor, Avibrás has sold this type of cluster munition to Saudi Arabia in the past, and Human Rights Watch documented their use by Saudi Arabian forces in Khafji in 1991.
"Brazil and other states that continue to allow the production and transfer of these weapons cannot claim ignorance of the toll they are taking on civilians in Yemen and elsewhere. Brazil must stop production immediately, destroy its stockpiles and accede to the Convention on Cluster Munitions without delay," said Átila Roque, Executive Director of Amnesty International Brazil.
30 October 2015
AMNESTY INTERNATIONAL PRESS RELEASE
Related Actions
Related Newses