REPUBLIC OF MADAGASCAR: Reverse the human rights downward spiral
REPUBLIC OF MADAGASCAR: Reverse the human rights downward spiral
13 Jul 2017

[International Secretariat]
Region: REPUBLIC OF MADAGASCAR
Topic: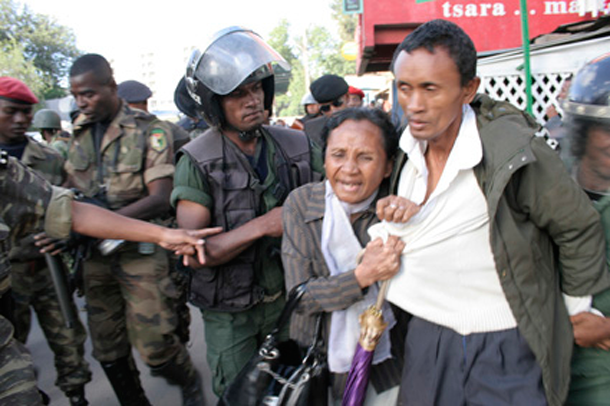 ©Evitras-Madagascar Tribune
Malagasy authorities must act swiftly to reverse the country's human rights downward spiral including by urgently investigating allegations that the security forces have burned down villages and committed extrajudicial executions, said Amnesty International today ahead of the UN Human Rights Committee's review of the country.
"Madagascar's human rights record is on a sharp decline as a result of the blatant disregard for the rule of law," said Deprose Muchena, Amnesty International's Regional Director for Southern Africa.
Extrajudicial executions
Amnesty International is concerned about allegations of extrajudicial executions committed by law enforcement officials. Many of them have occurred in the context of banditry linked to cattle thieves in the southern part of the country.
The organization has also documented reports of law enforcement officials seeking revenge after incidents of mob justice. In February 2017, police officers allegedly burnt down five villages in Antsakabary town after two of their colleagues were allegedly killed by villagers. An elderly woman died from burns during the attack, as she was unable to escape.
Freedom of expression
Journalists and human rights defenders continue to be subjected to intimidation and harassment by the authorities, and others with vested interests, in an attempt to silence them and obstruct their investigative or human rights work.
Those who dare to speak out against illegal trafficking and exploitation of natural resources have been increasingly targeted through the use of criminal charges.
Clovis Razafimalala, an environmental activist who denounced the illegal trafficking and exploitation of rosewood and other timber has been detained for more than nine months on trumped-up charges including rebellion.
Discrimination against twins
Twins, and other multiple births, continue to face discrimination and are being abandoned by their parents due to popular beliefs in the region of Mananjary that they bring bad luck. Those who choose to keep their twins are stigmatized and excluded from the rest of the community.
In one village in the Mananjary region, chiefs have taken a position not to offer their "blessing" to parents who decide to keep their twins.
"This UN Human Rights Committee review offers Malagasy authorities the perfect opportunity to take stock of all the human rights issues facing the country and make serious efforts to rectify the problems," said Deprose Muchena.
"All is not lost, and there is still an opportunity to reverse the downward spiral and bring the country back to acceptable human rights standards."
Background
The 120th session of the Human Rights Committee, which will take place in Geneva, will review the fourth periodic report of Madagascar on its implementation of the International Covenant on Civil and Political Rights on 10th and 11th July 2017.
It is an opportunity for member states to declare steps that they have taken to ensure the equal enjoyment of civil and political rights.
The Human Rights Committee is the body of independent experts that monitors implementation of the International Covenant on Civil and Political Rights by its State parties. Madagascar signed the International Covenant on Civil and Political rights in 1969, and ratified it in 1971.
10 July 2017
AMNESTY INTERNATIONAL PRESS RELEASE
Related Actions
Related Newses