31 Jul 2019

[International Secretariat]
Region: RUSSIAN FEDERATION
Topic: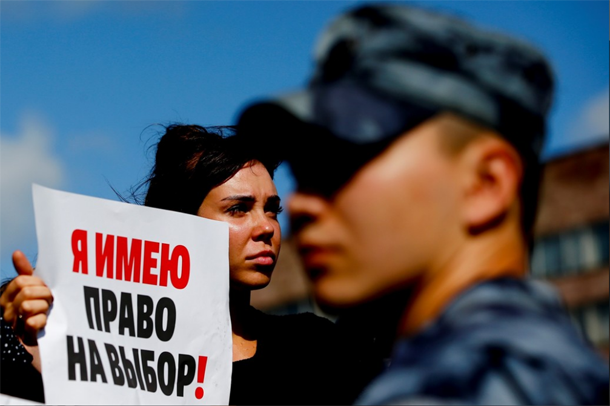 Anadolu Agency via Getty Images
Reacting to the arrest of five opposition members, including Aleksei Navalny, and the home searches and criminal investigations launched last night against eight more, Oleg Kozlovsky, Amnesty International's Russia Researcher said:
"This open and shameless attempt by the Russian authorities to intimidate the oppositionahead of September's Parliamentary elections in Moscow must end now. Aleksei Navalny and four other activists arrested yesterday are prisoners of conscience and must be released immediately and unconditionally – calling for peaceful political rallies is not a crime and should never be punished as such.
"But administrative arrests are not the only tool in the government's playbox. As of yesterday, many opposition activists and candidates have also been targeted for criminal investigations using an obscure article of the criminal code. Over the past 24 hours, several candidates who wished to stand in the election have had their houses searched or been summoned for questioning. The message is clear – stop speaking out.
"It is outrageous that the Russian authorities feel so emboldened in preventing opposition voices from being heard. The rights to freedom of expression and peaceful assembly are enshrined in international human rights law and should be upheld everywhere."
Background
On 24 July, the Russian opposition leader Aleksei Navalny was given 30 days of administrative arrest for calling for a peaceful rally on 27 July to protest against the decision of Moscow city officials to bar opposition candidates from running in the regional parliamentary elections in September. Four more activists were given between 8 and 30 days arrest for the same reason or for peacefully participating in protests.
The same day, the authorities conducted searches at the homes of opposition candidates Dmitry Gudkov and Ivan Zhdanov. Six more candidates were summoned for questioning. They were threatened to be charged with the criminal offence of 'violation of voting rights and obstruction of work of electoral commissions with use of violence' because they participated in a peaceful rally that took place outside the Moscow Electoral Commission on 14 July. Summons for questioning of opposition candidates continued today.
25 July 2019
AMNESTY INTERNATIONAL QUOTE
Related Actions
Related Newses