26 Jan 2013

[International Secretariat]
Region: GUATEMALA
Topic: Women's Rights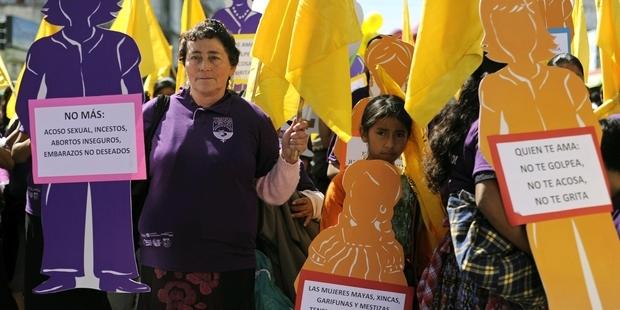 March to protest violence against women in Guatemala City.© JOHAN ORDONEZ/AFP/Getty Images
Authorities in Guatemala are putting the lives of women at risk by systematically failing to protect them and ensure those responsible for the hundreads of killings that take place each year face justice, Amnesty International said today after it emerged two young girls and two women had been brutally slain.
On 16 January, the bodies of the two girls were found in a street in Guatemala City. Two other women were also found dead, in separate locations.
Around 560 women were murdered in Guatemala in 2012, 631 in 2011 and 695 in 2010, according to official figures.
Less than 4 per cent of all homicide cases result in perpetrators being convicted. Guatemala's congress passed a law in 2008 that typified various crimes of violence against women and established special tribunals and sentencing guidelines, but this has not stemmed the violence.
"There is no let-up in the cases of killings of women and girls recorded every month, despite the national scandal this has become for Guatemala," said Sebastian Elgueta, Guatemala researcher at Amnesty International.
"Thousands of cases of killings of women and girls dating from the last decade are still unresolved or end up being archived due to inefficiencies."/p>
Claudina Velasquez, a 19-year-old university student was found dead on 13 August 2005. She had been shot dead. Her killers have never been found.
Serious deficiencies were reported in relation to the effectiveness of the investigation, including no tests being carried out on the main suspects to ascertain if they had fired a gun.
Claudina's father has repeatedly visited the Public Prosecutor's Office, suggested lines of investigation and pushed for action on his daughter's case. However, no visible progress has been made.
15-year old Maria Isabel Franco was raped and killed in December 2001.
Her mother, Rosa Franco has been fighting for justice ever since, but the Guatemalan authorities have not brought the perpetrators to justice.
Rosa has faced death threats and harassment by unknown individuals in the struggle to find those responsible for her daughter's killing. In October 2006, the Inter-American Commission on Human Rights admitted the case on the grounds of unjustified delay in the investigation by the Guatemalan State.
The case has now been referred up to the Inter-American Court of Human Rights, increasing the pressure on the Guatemalan authorities to act.
"By failing to prevent violence, mount effective investigations and ensure those responsible face justice, authorities in Guatemala are sending the message that abusing and murdering women is allowed," said Elgueta.
Amnesty International calls on the authorities to fully investigate the latest killings of the two girls and two women, and to bring those responsible to justice.
The government must also take urgent steps to deal with the many unresolved cases of gender-based violence that have plagued Guatemala in the recent past, by ensuring that investigations are properly carried out and victims' deaths do not remain in impunity.
17 January 2013
AMNESTY INTERNATIONAL PRESS RELEASE
Related Actions
Related Newses