6 Feb 2013

[International Secretariat]
Region: ARAB REPUBLIC OF EGYPT
Topic: Year of Rebellion Human rights in the Middle East and North Africa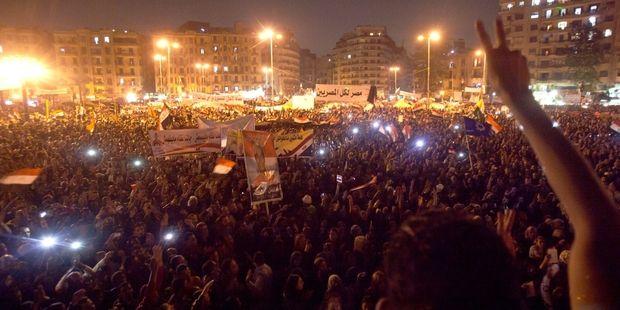 President Morsi's decree overriding judicial authority has sparked widespread protest© Matic Zorman / Demotix
After three days of violence that claimed at least 45 lives and led to more than 1,000 injured, Amnesty International called for end to excessive force by security forces, and urged the Egyptian security forces to refrain from using lethal force unless it is unavoidable to protect life.
A researcher from Amnesty International investigating killings in Suez collected disturbing eyewitness accounts of excessive force, including in some instances security forces using lethal force when it was not strictly necessary to protect life, including when protestors did not pose an imminent threat to them or others.
The security forces also breached Egyptian legislation which, while falling short of international standards, sets some limits on the use of firearms by police, including requiring the issuing of audible warnings and aiming at the feet.
"As more protests continue today to commemorate the bloodiest day of the '25 January Revolution', the Egyptian authorities must issue clear orders to those policing protests to respect freedom of peaceful assembly and avoid unnecessary or excessive force," said Amnesty International's Deputy Director for the Middle East and North Africa, Hassiba Hadj Sahraoui.
"The recourse to violence by some protesters does not give a blank cheque to the police to shoot and beat protesters. All this comes against the backdrop of decades in which the security forces have operated with impunity ? in some cases getting away with murder."
At least nine people, including one member of the security forces, died in Suez on the evening of 25 January.
On 26 January, forensic pathologists arrived in Suez from Cairo to conduct post-mortem examinations in the presence of members of the military prosecution.
The head of forensics Ihsan Kamil Georges was quoted on the website of the state Al-Ahram newspaper as saying Suez protestors were shot by live ammunition, in some instances at close range and from behind.
According to the Port Said Health Directorate, some 31 people died and 322 were injured in the wake of the violence on 26 January. At least two members of the security forces were among the dead.
According to the directorate, a further five people were killed and 536 people injured on 27 January during funeral processions, when unknown assailants opened fire. Local residents estimate the death toll to be higher. Amnesty International reported more bodies arriving at the morgue late in the afternoon on 28 January. Protestors told the organization that they will defy the curfew and remain on the streets as clashes continue outside local police stations.
Over the weekend, a number of official buildings and premises associated with the Muslim Brotherhood were also attacked.
On 27 January, the Ministry of Interior announced that 120 people were under arrest in connection with the unrest across the country.
"The Egyptian authorities must ensure that investigations into these tragic deaths are conducted by an independent and impartial body not implicated in the killings, and that all those found responsible are brought to justice," said Hassiba Hadj Sahraoui.
"If anything, recent events in Egypt demonstrate that there is no way forward unless there is real accountability for police abuse and justice is delivered by an independent judiciary."
On 27 January, President Morsi announced a month-long state of emergency and imposed a curfew in the provinces of Suez, Ismailia and Port Said.
President Morsi stated that he was prepared to take further measures, and would not hesitate to do "much more for the sake of Egypt." The army have also been deployed to restore order.
Amnesty International has urged the Egyptian authorities to consider whether less intrusive measures would be better suited to restore order.
Related Actions
Related Newses