30 May 2013

[International Secretariat]
Region: MALAYSIA
Topic: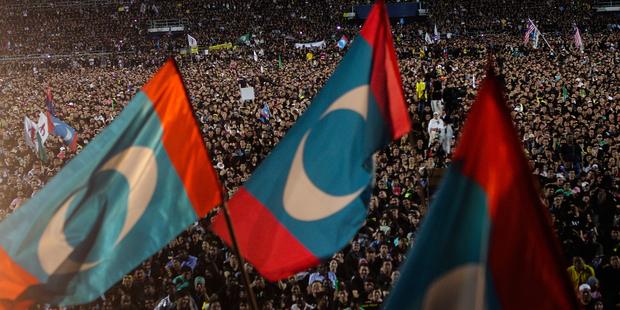 There have been opposition protests against alleged election fraud since the poll earlier this month (C) Getty Images
Malaysia must end its post-election crackdown and release a member of parliament and other opposition political activists arrested under the repressive Sedition Act, Amnesty International urged today.
Opposition activists Tian Chua MP, Ibrahim Harris and Tamrin Ghafar were arrested in Kuala Lumpur today under the Sedition Act, which the government last year promised to repeal.

Meanwhile, student activist Adam Adli was charged under the Sedition Act for calling for street protests against alleged electoral fraud during the 5 May poll.
Eighteen youth activists were also detained last night in Penang while holding a candlelit vigil for Adli, who was arrested last week.

"The Malaysian government must stop using the country's outdated Sedition Act and repressive provisions of the Penal Code to stifle the right to free expression and peaceful assembly," said Amnesty International's Asia Pacific deputy director Isabelle Arradon.

"The authorities must release all those who have been arrested solely for peacefully expressing their political beliefs, including dissenting opinions."

Police targeted Adam Adli, for allegedly making comments about election fraud during a public meeting on 13 May. Tian Chua, Ibrahim Harris and Tamrin Ghafar are being held overnight, awaiting a remand hearing Friday morning.

Adli was arrested in Kuala Lumpur on 18 May, 13 days after the most closely fought general election in Malaysia's history.

He was charged and released on bail today ahead of a hearing on 2 July. If found guilty of sedition, he could be imprisoned for up to three years and face a fine of up to 5,000 Malaysian ringgit (USD 1,650).

Amnesty International has repeatedly raised concerns about the Sedition Act and the way the authorities have used it to repress political dissent.

Prime Minister Najib Tun Razak, whose party won the election, announced in 2012 that he would repeal the Sedition Act, saying it represented "a bygone era".

"Rather than abolishing the repressive sedition law as promised, the government is now using it against peaceful protestors," said Isabelle Arradon, Asia Pacific deputy director of Amnesty International.

The Sedition Act criminalises a wide array of acts, including those "with a tendency to excite disaffection against any Ruler or government" or to "question any matter" protected by the Constitution.

The 18 activists arrested last night, three of whom said they were beaten by police, have been detained for "unlawful assembly" under repressive provisions in the Penal Code which the Malaysian authorities routinely use against protesters. At least one of the detained activists is under 18 years old.
Amnesty International News Release
23 May 2013
Related Actions
Related Newses