4 Aug 2013

[International Secretariat]
Region: ARAB REPUBLIC OF EGYPT
Topic: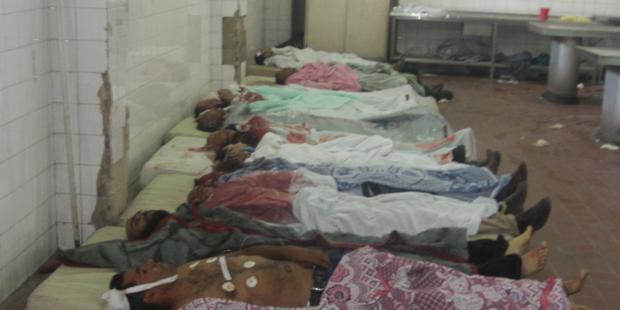 A weekend of violence left 90 dead in Egypt.(C) Amnesty International
Evidence that the security forces have once again used unwarranted live fire and other excessive force underlines the crucial need for police reform, said Amnesty International after a weekend of violence left 90 dead.
Security forces used live rounds and tear gas to disperse supporters of deposed President Mohamed Morsi during demonstrations on Saturday, leaving 80 people dead. A further 10 people were killed by gunfire during clashes in Alexandria.
The Interior Ministry has denied using live ammunition to disperse protests on 27 July. However, testimonies from injured protesters and eyewitnesses as well as medical and video evidence collected and examined by Amnesty International casts serious doubts on the Ministry of Interior's version of events.
The Zeinhoum morgue in Cairo received 80 bodies on Saturday. Autopsies carried out on 63 of them by Sunday revealed that 51 had died as a result of bullet wounds. Eight sustained fatal shotgun pellet injuries and three people had suffered wounds by both types of ammunition. One man also died of fractures to the skull. Ammunition extracted from eight bodies included 9mm revolver bullets as well as rifle cartridges.
Doctors at the al-Hussein University hospital said 60 per cent of patients had been wounded from behind.
Amnesty International is calling on the Egyptian authorities to bring the legislation governing security forces into line with international human rights standards.
"The security forces cannot continue to operate in a climate of total impunity. The new government must prioritize long overdue reforms to the security sector. Its methods of policing protests must change to prevent further bloodshed."
29 July 2013
AMNESTY INTERNATIONAL PRESS RELEASE
Related Actions
Related Newses