28 Apr 2014

[International Secretariat]
Region: UKRAINE
Topic: Regional conflict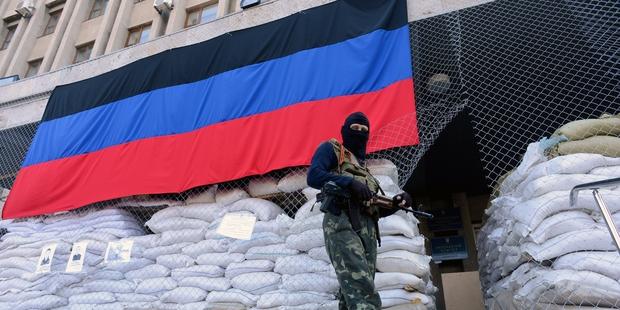 An armed man in military fatigues stands guard outside a regional administration building seized by the separatists in the eastern Ukrainian city of Slovyansk on April 23, 2014.(C)KIRILL KUDRYAVTSEV/AFP/Getty Images
Journalists and officials being unlawfully detained and used as "bargaining chips" by armed separatists in eastern Ukraine must be released immediately, Amnesty International said, noting they could be at risk of torture and other ill-treatment.
The Kyiv Post today reported that at least 16 people have been abducted since last week in the eastern Ukrainian Donetsk region, where pro-Russian armed individuals have seized control. Three foreign journalists have been released, but several other journalists and officials remain in detention or unaccounted for. Two previously abducted men were found dead yesterday, their corpses bearing signs of torture.
In a press conference this afternoon, the self-proclaimed "People's Mayor" of Slovyansk Vyacheslav Ponomarev, said the detainees were being held as "bargaining chips" and he had no intention of letting them go. He accused the Kyiv government of detaining and torturing his "comrades".
"The harassment, abduction and detention of journalists constitute a serious blow to freedom of expression and must be halted immediately. Anyone unlawfully detaining journalists or others in eastern Ukraine must guarantee their safety and release them immediately and unconditionally."
String of abductions in Slovyansk
There has been a worrying string of abductions in eastern Ukraine over the past 10 days. The incidents coincide with pro-Russian armed individuals taking control of police stations and public offices in several cities. Their purported leader, Vyacheslav Ponomarev, has proclaimed himself Slovyansk's mayor.
According to media reports, Slovyansk resident Artem Deynega was abducted on 13 April by unidentified people. Three days later, Ukrainian journalist Serhiy Lefter was similarly taken captive while reporting in the city.
On 18 April, Nelya Shtepa, the elected Mayor of Slovyansk, disappeared after attempting to meet with Vyacheslav Ponomorev.
Meanwhile, a Slovyansk police chief, Oleg Prokhorsov, has been missing since 19 April.
Also on 21 April, three other foreign journalists were temporarily detained by gunmen manning a checkpoint in the city. The three – two Italians and one Belarusian – were later released but they reportedly had their equipment confiscated.
In another grim development, on 22 April, the bodies of two men were found near the river Torets in Slovyansk, bearing signs of torture.
"This grisly and shocking discovery must serve as a wake-up call to everyone in eastern Ukraine. An independent, impartial and thorough investigation must be carried out into these killings, with all those responsible brought to justice," said Heather McGill.
23 April 2014
AMNESTY INTERNATIONAL PRESS RELEASE
Related Actions
Related Newses