3 Jun 2014

[International Secretariat]
Region: ARAB REPUBLIC OF EGYPT
Topic: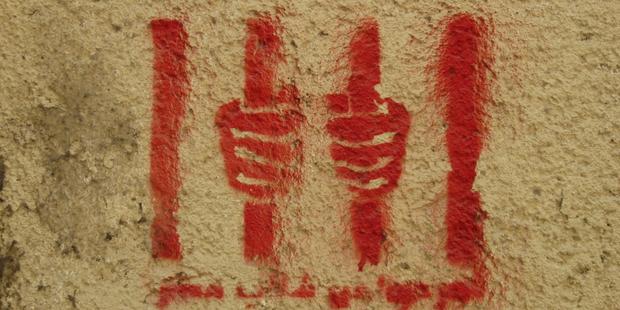 Dozens of civilians have been disappeared into military detention, where they have faced torture.(C)Amnesty International
Dozens of civilians have been subjected to enforced disappearance and held for months in secret detention at an Egyptian military camp, where they are subjected to torture and other ill-treatment to make them confess to crimes, according to shocking new evidence gathered by Amnesty International.
Egyptian lawyers and activists have a list of at least 30 civilians who are reportedly being held in secret at Al Azouly prison inside Al Galaa Military Camp in Ismailia, 130km north-east of Cairo. Former detainees there have told Amnesty International that many more – possibly up to 400 – could be held in the three-storey prison block. The detainees have not been charged or referred to prosecutors or courts, and have had no access to their lawyers or families.
"These are practices associated with the darkest hours of military and Mubarak's rule. Egypt's military cannot run roughshod over detainees' rights like this," said Hassiba Hadj-Sahraoui, Middle East and North Africa Programme Deputy Director at Amnesty international.
The authorities must immediately inform the families and lawyers of all those being held in secret at Al Galaa Military Camp or elsewhere. Anyone who has been forcibly disappeared must immediately be granted access to doctors, lawyers and their families.
They must be protected from further torture or other ill-treatment, and released, unless they are promptly charged with a recognizable criminal offence before being brought before a judge for a fair trial.
"Reports of torture in Egypt have been steadily emerging. Yet, what's happening inside the prison is taken straight from a torturer's textbook and shows that behind the authorities' rhetoric of the road map to democracy and upcoming elections lies ruthless repression," said Hassiba Hadj-Sahraoui.
There must be full, impartial and independent investigations into all allegations of torture and ill-treatment, with all those responsible brought to justice.
Amnesty International met with recently released detainees from Al Azouly prison. They gave harrowing accounts of torture, including the use of electric shocks, burns and other ill-treatment during interrogations at the military camp.
Lawyers and activists have told Amnesty International that enforced disappearances have been on the rise in Egypt since November 2013. It is expected that the detainees being held in secret will be brought before state security prosecutors after they have "confessed" under torture. In some cases, it appears that individuals have been secretly detained for months, during which time they were tortured to extract "confessions".
Lawyers working on state security cases, including those involving prisoners at Al Azouly, described a systematic pattern where people are abducted from streets or their homes and sent to Al Azouly, where they have no access to lawyers or their families and the authorities refuse to acknowledge that they were in custody.
The defendants are coerced to "confess" to a crime or implicate others. Some of the detainees agree to confess once referred to the state security prosecutor, to get out of the prison and stop the torture. Lawyers told Amnesty International that they are never allowed to attend the first investigation and they are not informed about the date or time of the investigation.
"Torture is absolutely prohibited under all circumstances and is a crime under international law. Prosecutors, courts and other Egyptian authorities must never use 'confessions' or statements extracted through torture or other ill-treatment in any proceedings. Imprisonment on such a basis constitutes arbitrary detention," said Hassiba Hadj-Sahraoui.
22 May 2014
AMNESTY INTERNATIONAL PRESS RELEASE
Related Actions
Related Newses