4 Mar 2016

[International Secretariat]
Region: SYRIAN ARAB REPUBLIC
Topic: Regional conflict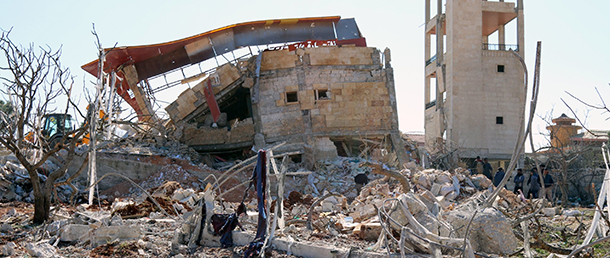 © AFP/Getty Images
Russian and Syrian government forces appear to have deliberately and systematically targeted hospitals and other medical facilities over the last three months to pave the way for ground forces to advance on northern Aleppo, an examination of airstrikes by Amnesty International has found.
Even as Syria's fragile ceasefire deal was being hammered out, Syrian government forces and their allies intensified their attacks on medical facilities.
"Syrian and Russian forces have been deliberately attacking health facilities in flagrant violation of international humanitarian law. But what is truly egregious is that wiping out hospitals appears to have become part of their military strategy," said Tirana Hassan, Crisis Response Director at Amnesty International.
"The latest string of attacks on health facilities north of Aleppo appears to be part of a pattern of attacks on medics and hospitals, a strategy that has destroyed scores of medical facilities and killed hundreds of doctors and nurses since the start of the conflict."
The organization has gathered compelling evidence of at least six deliberate attacks on hospitals, medical centres and clinics in the northern part of the Aleppo Countryside governorate in the past 12 weeks. The attacks, which killed at least three civilians including a medical worker, and injured 44 more, continue a pattern of targeting health facilities in various parts of Syria which amounts to war crimes.
Amnesty International researchers spoke to medical workers from the six medical facilities and several humanitarian organizations in Turkey and Syria, who described their struggle to cope with the high number of civilians in need of medical treatment following the recent escalation of airstrikes on the area in February 2016.
Several medical workers from Anadan and Hreitan, two towns north-west of Aleppo, told Amnesty International that the Syrian government's strategy is to empty an entire town or village of residents by targeting hospitals and infrastructure to facilitate the ground invasion.
A doctor from Anadan said: "Hospitals, water and electricity are always the first to be attacked. Once that happens people no longer have services to survive. This is what happened in Anadan. By mid-February most of the residents had fled the city after the field hospital and medical centre were attacked on 2 February. The field hospital is barely operating and the centre closed. The problem is that not everyone is able to leave the city. The ones who stayed behind are elderly people who are in desperate need of medical treatment."
"Hospitals in opposition-controlled areas around Aleppo became a primary target for the Russian and Syrian government forces. This eliminated a vital lifeline for the civilians living in those embattled areas, leaving them no choice but to flee," said Tirana Hassan.
All of the people interviewed by Amnesty International said that there were no military vehicles, checkpoints, fighters or front lines near the hospitals that were attacked and that the hospitals were exclusively serving their humanitarian function.
Deliberate attacks on civilians not directly participating in hostilities and on civilian objects, including hospitals and other medical facilities, violate international humanitarian law (also known as the laws of war) and amount to war crimes. Under the laws of war, hospitals and medical units enjoy special protection. They only lose their protection from attacks if they are being used outside their humanitarian function to commit "acts harmful to the enemy" such as to store weapons.
Even in the case of such misuse, a warning has to be issued setting a reasonable time limit and an attack can only take place after such a warning has remained unheeded.
"We have repeatedly called on the Syrian and Russian governments to abide by international humanitarian law and have urged Russia to conduct credible, independent investigations into its forces' attacks on hospitals and other serious violations," said Tirana Hassan.
"All medical workers and all health facilities should be respected and protected instead of being targeted. The injured and sick people are stranded at the Turkish border or dying inside Syria because hospitals have become the new front line in the offensive on the northern part of the Aleppo Countryside governorate. There is no excuse for a government to prevent people from accessing medical care. There is no excuse for deliberately targeting hospital after hospital."
AMNESTY INTERNATIONAL PRESS RELEASE
03 March 2016
Related Actions
Related Newses